KeyShot Pro 3D rendering and animation software is possibly the fastest, easiest way to create amazing, photorealistic images. Superb performance, widely used - KeyShot is a reliable, versatile and powerful standalone renderer. KeyShot Pro includes all animation tools, render queuing, advanced HDRi editor - and much more.
Lock In Your Upgrade to KeyShot Pro 11
For a limited time only, you can add a maintenance subscription to an existing KeyShot 10 Pro licence!
Delivery Type
Digital Delivery By Email
Processing Time
1 - 4 (Business) Hours
Why buy from us?
Price match guarantee
Great service
Independent advice
Flexible payment options
Business Leasing
Leasing provides businesses with a way to obtain the software they need at a low monthly cost.

KeyShot 10 Pro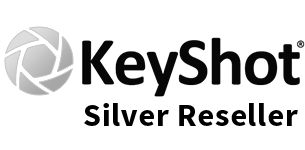 KeyShot Pro is one of the most straight-forward yet powerful 3D rendering applications available, with a simple and intuitive interface for both Mac and Windows. High quality results can be achieved very quickly, and Keyshot Pro lends itself well to a wide range of industries. Our KeyShot customers include product and industrial designers, vehicle design companies, jewellers and architects - amongst many others.
Create interactive web and mobile content. Render with multiple GPUs. Generate realistic woven materials. KeyShot provides the advanced features and flexibility you need to take your visuals to the next level.
To find out the differences between the versions of KeyShot, view the
KeyShot Comparison
.
If you'd like to try KeyShot for yourself, request a free
KeyShot Trial
.
New in KeyShot 10.1
Collision Detection and Settle
KeyShot 10.1 includes basic Collision Detection of objects, along with the ability to Settle items on other objects and the ground. Included in the new Move Tool, Collision Detection and Settle is useful for scene setup when objects need a more realistic arrangement on the ground or amongst other objects. Collision Detection may also be used separately as an easy way to align objects while keeping them aware and separate from other objects in the scene.
Smart Export/Import Enhancements
KeyShot 10.1 introduces the ability to export a KeyShot file into separate USDz and GLB files as part of one export process that performs the Baking and UV unwrapping together, allowing easy creation of files that work for both Apple iOS (USDz) devices and Android/Web (glTF/GLB). Baking and UV Unwrapping can now also be canceled. USD import has also been added to the Import options for KeyShot to allow you to advance the appearance of their model then export it to multiple AR platforms.
Lighting Enhancements
For the Light Manager, KeyShot 10.1 introduces the ability to select and control multiple lights simultaneously, making proportional adjustments to the entirety of a scene's lighting or select lighting, fast and efficient. KeyShot 10.1 also improves Light Gizmo and Light Manager usage by introducing the ability to sync changes and undo changes using Ctrl-Z (Windows)/command-Z (Mac) or via the Edit, Undo menu.
Introduced in KeyShot 10
Sun & Sky Day Arc Animation
Adjust the date, start, and end time or apply individual keyframes for precise control. It's never been this easy to animate daylight in your scenes.

Keyframe Animation
Add and adjust keyframes exactly where you need them, or record sequences to quickly create complex visuals.

Twist Camera Animation
Add a bit of drama with a subtle (or dramatic!) camera angle. KeyShot 10 adds the ability to animate the Twist parameter of your camera.

Environment Rotation Animation
No matter if it's a standard environment or your own custom HDRI, you can control how the environment light rotates and the speed that it moves across your product.

Light Manager & Gizmos
Light Manager lets you control all of your scene lighting from one location, while new Light Gizmos allow fast adjustment of IES Lights, Spotlights, and Point Lights in both Real-Time and Geometry view.

Smart Export
The new Smart Export feature utilises KeyShot's UV Unwrapping and Baking capabilities to prepare assets for AR, Web, and full colour 3D printing.

Firefly Removal
Denoise now includes a Firefly Filter to quickly smooth or remove unwanted specks of light in your scene.

RealCloth 2.0
If you were impressed by RealCloth before, this updated version will take your designs even further with improvements including 3D Ply for yarn-like geometry, and increased fibre detail for the most realistic representation of individual threading.


What Else is New?
Improved Denoise
New 'Solo' Mode
Locked Camera Mapping
Network Rendering Speed Improvement
Flip Normals
Name Template Updates
Improved Caustics
Improved Move Tool
Sub-Material Save
Improved Toon Material
FBX Import
Save Scene Performance Mode
Render with Multiple GPUs

Available for both real-time rendering and local render output, the new GPU Mode allows GPU resources to be accessed with one click. Harness the GPU-accelerated ray-tracing power of NVIDIA RTX with OptiX.

 
 

Realistic Woven Materials

RealCloth Pro technology by Luxion is a new material type which lets you create and visualise realistic woven materials, including control over the weave and flyaway fibers.

Edges Anywhere

With the Contour texture, you now have control and flexibility while creating custom materials. Add an illustration-like effect, or use it on top of real world materials like metals and plastics.

 
 

Fuzz Material

The new material geometry shader, fuzz, brings a whole new level of realism to your products. Add any amount of fuzz on the surface of a meterial in the Material Graph (Pro), and you can control the length, density and randomness for the perfect look.

Interactive Web and Mobile Content

Introducing the power to generate interactive browser-based product configurators. Create fully-rendered product variations using the models, materials and studios of your choice.

 
 

Smoother Renders

Working with both CPU and GPU Mode to eliminate noise, the denoiser creates smooth, fast and beautiful renderings in the real-time view and final render output.

Specially Curated Library

A new library filled with high quality 3D models to complement your scene, that are complete with textures and materials. Easily searched, filtered and added to any scene as a simple drag and drop.

 
 

Generic (BRDF) Material

Only generic in name, this material's flexibility is near limitless. Adjust sheen, clearcoat, metallic, anisotropic and more.
Plugins
Keyshot is a standalone renderer, and does not run as a hosted plugin on a parent 3D modelling app. An investment in Keyshot can be very economical over time - especially if your 3D modelling workflow changes, or different team members or suppliers produce 3D work in different applications. In addition to being able to process almost any kind of 3D file, Luxion Keyshot comes with free plugins for:
Powerful Features, Incredible Workflow Efficiency
Easier ways to set up your scene, work more efficiently, and deliver amazing visuals with speed.
Rendering has always been fast and easy with KeyShot. KeyShot continues the focus on making your workflow even smoother. From import to final render these features will have you creating visuals faster than ever before.
VR Headset support 

(PRO Feature)

With support for VR headsets, including HTC Vive and Oculus Rift, experience real-time VR within KeyShot or output your stills and animations to view using your VR hardware.

Panoramic Lens

(PRO Feature)

Enable Panoramic Lens to use Spherical or Cube Map mode in real-time or render out to create spherical EXR images to use as environments to light other scenes or load in VR

Model Sets 

(PRO Feature)

Create different variations of models and parts in a single scene show models in different states or using different materials.

Studios

(PRO Feature)

KeyShot Studios let you create and save scene variations in one file for quick presentation, with a combination of cameras, environments, models or materials.

 

Walkthrough Mode 

More control in Walkthrough Mode with collision detection to prevent walking through objects with simple sensitivity control.

Multi-Material

(PRO Feature)

Apply any combination of different materials to any part to facilitate non-destructive material swapping, variations and color studies.

 

 

 

Multi-layer PSD (PRO)

When outputting rendered still images and Animation frames as PSD and PSD 32 Bit format, Render Passes and Render Layers will be included as individual layers contained in the Photoshop file.




Real-time Region Render (PRO)

KeyShot Pro users can render any region of their scene in real-time. Only the region enclosed by the bounding box in the Real-time view will be rendered. Use this feature while dialing in materials to see the areas res up faster than if displaying the entire Real-time view.



Save Scene Sets (PRO)

The ability to save active Scene Sets allows them to be easily share with users of KeyShot HD who need access to a scene created with KeyShot Pro.



Interior Lighting Mode

Set or adjust scene lighting optimised for interiors or product shots. Switch to performance mode or use your own custom preset with the click of a button.


Advanced Material Control
More control over materials with enhancements and advanced material editing for unlimited possibilities. With KeyShot's scientifically accurate materials, it's easy to get the look you want. KeyShot brings you even greater control over materials with advanced editing capabilities and many more materials options to expand your material and texture possibilities.
Metallic Paint

Create deep, rich candy coats with the new texturable clear-coat color with complete control over clear-coat thickness.

Toon Material

More control over contours and the ability to change shadow color and texture or change the visibility of shadows produced by light materials.

 

Material Templates

Material templates have been completely updated to make it faster and easier to setup and apply materials across all parts at import.

Texture Mapping

Apply textures faster with the interactive mapping tool. Apply textures using Tri-planar, Tile UV or apply video maps.

Procedurals

Color and Number Fade animations now make it possible to quickly adjust material colors or settings, change materials opacity or fade lights.

 

Unit-Aware Settings

Adjust your material and texture settings using actual values based on the units set for your scene.

Material Graph (PRO)

The Material Graph opens in a separate window and displays materials, textures, labels and more as nodes in a graph view to visualise connections and relationships within complex materials.



Materials on Labels

Materials and textures can now be applied to labels to enhance appearance and realism. Having this flexibility allows for a more accurate communication of labels and their true physical properties.



Material Animation (PRO)

Colour and Number Fade animations make it possible to quickly adjust material colours or settings, change materials opacity or fade lights, through the Material Graph, eliminating the need to blend frames in post-production.



Occlusion Procedural

This procedural texture type allows for the addition of proximity-based shading on a material. It can be used to accentuate or augment the self shadows cast on a material and, along with the Material Graph, to create interesting texture effects based on occluded and unoccluded areas.


More Lighting Control
Drop in an environment and see your scene lit instantly in real-time. A workflow now unique to KeyShot with abilities to change, create and control lighting in ways you've never experienced before.
Choose Your Environment

When you want to switch an environment, it should be easy. KeyShot features the ability to apply multiple environments to a scene, switch it as quick as you like and see the results instantly. Choose a studio, an outdoor scene or position sun and sky exactly where you want them.

 

Integrated HDRI Editor

(PRO Feature)

The KeyShot HDRI Editor is integrated in the Environment tab for a fluid environment editing experience.

HDRI Gradients

(PRO Feature)

Gradients are included in the HDRI Editor for both HDRI light pins and as an additional background option.

HDRI Export

(PRO Feature)

Set up your lighting and save it out. KeyShot allows you to export your HDRI environments in HDR, EXR and HDZ formats.

Interactive Sun & Sky

Drag and drop positioning of the sun with additional settings to dial in your own Sun & Sky environment.

Occlusion Ground Shadows

Quickly and easily toggle occlusion ground shadows on or off.

Reflection Contrast

The ground material in KeyShot allows complete control over the ground material reflection contrast.
More Than Just A Renderer
Advanced tools to help with geometry, viewing and rendering your scenes. When you want your workflow to be more about creating, the extra tools in KeyShot offer incredible ways to cut away those time-consuming steps, automate your tasks and completely eliminate post-processing steps.
Re-Tessellate

(PRO Feature)

Models that have been imported with NURBS included can be re-tessellated directly in the scene without having to re-import the model. This tool allows you to fine tune tessellation quality of entire models or individual parts in a scene to optimize appearance and file size.

Move Active Camera

(PRO Feature)

The Active Camera in the Geometry View can be manipulated with a move tool. This features makes positioning cameras in interiors especially easy.

Geometry View (PRO)

This highly responsive secondary real-time view provides an additional camera viewpoint, 1:1 animation playback, camera path animation control and more. 



Geometry Editor (PRO)

The Geometry Editor brings the freedom of splitting surfaces, calculating vertex normals, separating individual surfaces and closing open boundaries directly inside of the KeyShot through an integrated Geometry View.



Scripting Console (PRO)

A wide range of KeyShot functionality is made available via scripting to unleash the power of automation and batch processing. Predefined scripts are found in the Scripts tab of the Scripting window, which includes easy-to-use scripts for batch rendering, encoding video and more, with complete functionality to create and save custom scripts. This includes camera control, lighting presets, materials and material templates, environment, background, backplates, rendering (images, animations, and VR) and opening/saving/importing files.


Shift Lens

KeyShot has a Shift Lens setting with an Estimate Vertical Shift function that allows the verticals in a scene to be aligned with the click of a button, which is particularly useful for architectural and interior visualization.


More Flexible User Interface
KeyShot has always been focused on providing the most scientifically accurate material appearances possible. KeyShot refines this with more materials and texture types to provide exactly the look you need.
Customize Your Interface

You have more flexibility in the KeyShot user interface with the ability to create and save multiple Workspaces built around the way you work. Customise tab appearance and location or dock, undock and stack windows any way you like.

 

 

Custom Tabs

Each tab on the KeyShot Project and Library windows can be hidden, reordered or undocked.

Custom Ribbon

Set up the KeyShot Ribbon to display only your most used tools for faster, more convenient access.

Custom Hotkeys

Complete customization for all KeyShot hotkeys and additional quick presets for 3D modeling software view control.

4k Support

Enjoy a clean, crisp user experience with full 4k resolution support in KeyShot.

Color Picker

Quickly toggle gamma corrected values or apply image gamma to color swatches and color picker settings.

Scene Tree Preview

The hover state preview for Scene Tree Items displays the model to speed up search and selection.
Powerful Feature Enhancements
More power from import to creating animations and interactive visuals of your designs and ideas. With KeyShot you have more power with unlimited resolutions for KeyShot HD and KeyShot Animation included with KeyShot Pro. Animation and KeyShotVR features allow you to create visuals and present them like never before.
Camera Path Animation (PRO)

KeyShot opens up the ability to create incredibly dynamic camera motion with the new Camera Path Animation. With more control over the camera, smooth path-driven animations can be added in just a few clicks.



Plugins

Free plugins bring more advanced support and LiveLinking capabilities to Maya, 3ds Max and Cinema 4D.



Preserve Image Quality (VR)

If zoom-in is enabled, the image quality will be preserved when zooming in by enlarging the rendered frame resolution accordingly. This is separate from the viewport resolution setting for each frame.




Panorama Animation (PRO)

In KeyShot you can create panoramic camera animations simply and easily using the camera itself as the center of rotational viewing.


Feature Comparison
 
KeyShot HD
KeyShot Pro
KeyShot Pro Floating
KeyShot Enterprise
License Type
Node Locked
Node Locked
Floating/Networked (FlexLM)
Floating/Networked (FlexLM)

Features

Import 30+ 3D File Formats
CPU and GPU-Based Real-Time Ray Tracing
Progressive Global Illumination
Scientifically Accurate Materials
700+ Material Presets
Cloud Library
Axalta Paints / Mold-Tech Textured Plastics
Scattering Medium / Volume Maps
Cutaway
Multi-Layer Optics
Material Import
Material Templates
Colour / Specular / Bump / Opacity Textures
Image Textures
Pantone / RAL / CIE Colours
HDRI Lighting
50+ HDRI Environment Presets
Physical Lighting
Backplate Images
Image Styles
Denoise
Product Mode / Interior Mode Rendering Methods
Interactive Scene Tree
Interactive Camera Controls
Depth of Field
Camera Walkthrough
Camera Shift Lens
Rounded Edges
Unlimited Real-Time Output Resolution
Render Output Image Editor
Customisable UI
Customisable Hotkeys
Workspaces
Save Reminders
Backplate Perspective Matching

Includes everything in KeyShot HD PLUS...

Material Graph
Multi-Material
Geometry Shaders
RealCloth Edit Weave
Panoramic Camera
Real-Time Stereo Rendering
Model Sets
Studios
Configurator
Interactive HDRI Editor
Geometry Viewer
NURBS Ray Tracing
Re-Tesselate
Region Rendering
Render Queue
Render Passes
Render Layers
Python Scripting
Advanced Camera Tools
Video Map Texture
Deformation Animation
Movie Output
Export to ZPR/STL/OBJ/FBX/GLB/GLTF

Includes everything in KeyShot Pro PLUS...

FlexNet Server (Win / Mac / Linux)
Floating License Manager

Includes everything in KeyShot Pro Floating PLUS...

KeyShotWeb
32 Core Network Rendering
Siemens NX Plugin

KeyShotWeb
Add-on Available
Add-on Available
Add-on Available
Included
Network Rendering
Add-on Available
Add-on Available
Add-on Available
Included
KeyShot is designed to run fast on the most basic hardware configurations, or the most powerful of systems, to take full advantage of all CPU cores available and scale performance linearly. To get started, here are the minimum recommendations and system requirements for the latest version of KeyShot:

• 64-bit platform
• 2GB of RAM
• 2GB hard disk space
• Dual-Core CPU
• Monitor resolution of 1024 X 768 or greater
• OpenGL 2.0 capable system
• Internet connection for product activation
Multiple GPUs are supported. For GPU rendering, we recommend graphics cards with a minimum of 8GB memory.
PC

Intel Core 2 or AMD Athlon 64 processor or better
Windows 8, 10, or Windows Server 2012 and above.

Mac

Intel Core 2 Duo with SSSE3 or higher
Mac OS X 10.13 or later
More Information

| | |
| --- | --- |
| Brand | Luxion |
| Delivery Type | Digital Delivery By Email |
| Processing Time | 1 - 4 (Business) Hours |