The latest version of ZBrush empowers artists with powerful features and greater sculpting flexibility. The new XTractor, HistoryRecall and DecoCurve brushes expand the library, while you can now constrain brush strokes to only forward gestures with the NoBack&Forth modifier.
For Volume or Floating licences - please contact us for a quote.
Delivery Type
Digital Delivery By Email
Processing Time
1 Working Day
Special Price
£746.40
£622.00
Regular Price
£769.20
Why buy from us?
Price match guarantee
Great service
Independent advice
Flexible payment options

ZBrush 2022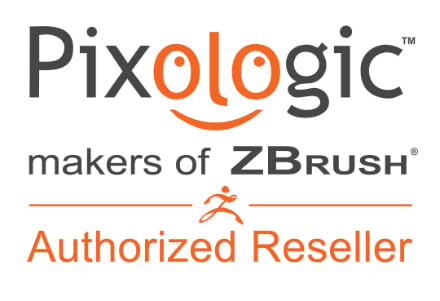 ZBrush is an industry standard digital sculpting and painting program built within an elegant interface used by automotive designers, film studios, game developers, toy makers and artists worldwide. With ZBrush, users can manipulate virtual clay in a real-time environment using customisable brushes, all while producing stunning nonrealistic renders for instant feedback.
The menus in ZBrush work together in a non-linear and mode-free method, and the powerful software processing means you can sculpt and paint with millions of polygons with no need for an expensive graphics card.
---
What's New in ZBrush 2021.7
Design with precision using the Knife brushes.
Store a point of view and swap back to it as needed with Stager.
Brush-based beveling.
Use Stroke Interpolate to create stroke arrays.
Mirror Poseable PolyPaint and Mask on topologically symmetrical meshes even after they've been posed.
Adjust last brush stroke to change its colour or shape without having to redraw it.
---
Sketch Your Mesh
Mesh From Mask is an amazingly fast and simple set of brushes (MeshExtrude, MeshBalloon, MeshSplat, and MeshExtrudePropDepth) for creating base meshes that you will then sculpt using the rest of the ZBrush feature set. Simply outline your desired shape with the masking lasso. ZBrush will instantly turn that outlined shape into an editable mesh.
2D Alpha Extrusion Along a Curve
The new Curve Alpha brushes take any 2D alpha and extrude it along a curve as real geometry - ideal for quickly creating stylish strands of hair or horns, twisting and tapering along any curve you create.
SnakeCurve Brushes
The new SnakeCurve brushes work with Sculptris Pro mode, allowing you to draw out a curve on the model and then pull it out from the surface to create beautiful organic extrusions.
True Raytracing Ambient Occlusion
Improved AO makes the details on your model truly pop. This improved version of Ambient Occlusion masking is simple to use with just basic controls for intensity and smoothing. It even respects other SubTools, which means that you have total freedom to break your model up into parts that best suit your sculpting needs, while enjoying the confidence that you'll get a great render when you're done.
Thick Skin
This tools gives any mesh the appearance of having been sculpted as a fine art piece, and gives a true sense of adding, removing, or moving clay across a surface. It can even be used to stablish a plateau from which to build upon, for example scales or other features with consistent height and depth.
3D Connextion Mouse Support
Free yourself from the keyboard and navigate in a more natural way. Using 3D Connexion hardware lets you move around your project with ease, and without breaking your sculpting stride.
Contrast
The Contrast slider provides you with the ability to globally enhance all sculpting details while the Contrast brushes make it possible to focus on specific areas to heighten your sculptural details. Wrinkles not deep enough? Scales not detailed enough for 3D print? No problem. You can even return a surface to a smooth state before any sculpting had been applied.
Curves Helper
Draw any shape with ZSpheres, then convert it into an editable curve that allows any surface to be applied along it - perfect for tieing knots, creating tangled wires, applying laces to a shoe, and much more.
Preview Ambient Occlusion
Quickly see which portions of your model might need an extra touch, all in real-time with the Preview AO feature.
ZModeler Additions
Slice topology along an edge, face or point to control the direction in which you want to take the construction of polygons. Then, apply a crease to multiple edges to maintain a crisp edge for your next hard surface model.
Axis Rotation
Lock your model to one rotational axis to give that real world feeling of sculpting. You can specify a degree of rotation for your model, or limit your viewing area to just one portion of the model.
ZBrush 2021 expands the library of brushes with XTractor, HistoryRecall and DecoCurve, and also allows you to use the new NoBack&Forth modifier to constrain brush stokes to forward gestures only. In addition to new brushes, the MorphUV feature's capabilities have been expanded to make viewing an unwrapped UV model layout within ZBrush possible. Sculpt & Paint in MorphUV also allows you to apply updates to a 3D model by scultping and painting on the 2D unwrap.


Sculpt & Paint in MorphUV
Now you can PolyPaint and sculpt directly on the UV unwrap of a model, making it easier than ever to apply long continuous strokes across a mesh.


XTractor Brushes
Convert detail from your model into a new alpah or texture using XTractor brushes. All you need to do is drag your brush across the surface of a model to capture the detail, then it can be used elsewhere on the model or even on a different model.


Real-Time Draft Analysis
The From Draft & Real-Time From Draft options give you a fluid approach to preparing models for applications such as two-part molding or CNC printing.


Texture Adjust by Colour
ZBrush 2021 gives you the power to adjust colours using a model's PolyPaint or Texture Map, and lets you restrict the adjustments to specific colour selections.


HistoryRecall
This brush lets you undo actions using the undo history, but restricts the effect to the area in which the brush is used. Now you can undo a section without losing everything else that's been done!


Move Infinite Depth
Apply details to anything directly inline with the cursor by altering your brush. You could add volume to the front and hind legs of a dog or move several vertex points on multiple individual meshes without applying a mask.



Wall Thickness
ZBrush uses PolyPaint to provide a visual representation of what portions of a mesh could benefit from additional thickness before rapid prototyping.


Calculate Surface Area
With a single click, ZBrush can now provide you surface area and volume as well as watertight integrity to help with 3D printing and estimating real-world material requirements.



Real-Time Silhouette View
Looking at your model from a new perspective can help make sure that it works on a fundamental level. Real-Time Silhouette View helps you evaluate the overall shape of a model while still being able to see the fully painted and scultped details in the main document space.


ZeeZoo
Use mannequin sample projects or Zoo Animals included with ZBrush 2021 to find the essence of a great compostion - a good pose! Mannequins are essentially ZSphere armatures that can be readily edited to fit any character or creature you need.


Deco Curve Brush
Stretch both texture and alpha along a curve using the Deco Curve brush, now in 3D.
---
Sculptis Pro
Pixologic are pleased to introduce Sculptris Pro, a dynamic tessellation sculpting workflow that enables you to ignore the constraints of polygon distribution and just sculpt! Sculptris Pro makes it possible for you to begin with any shape or model, whether it has ten polygons or ten thousand. There is absolutely no need to worry about having enough polygons to capture details.
With Sculptris Pro you can simply brush across the surface. Sculptris Pro will dynamically add and reduce polygons wherever and whenever it's needed, freeing you to focus entirely on the look you're trying to achieve. Start with a sphere, cube, cone or any other mesh and have some fun with Sculptris Pro.
Deformers Extended
The Gizmo 3D manipulator system which included utilities such as FFD Box, Multislice and several powerful deformers now has over 20!. Each deformer has a unique feature set to allow quick shape alterations that would not be possible through brush strokes.
Of special note is the new Project Primitive deformer.  This gives the ability to use multiple primitives to reshape a mesh, cut into a surface, build up from another mesh and much more.  Not only does Project Primitive offer a new, unique way to blend multiple pieces of geometry together it also empowers you to take something as simple as a sphere and turn it into a rocket ship, automobile, plane, human bust, or nearly anything else you might imagine.
PolygroupIt
ZBrush provides PolygroupIt -- an entirely new way to create the polygon groupings that are so essential to a smooth workflow. PolygroupIt accurately evaluates the surface of a model in real-time, generating intelligent groupings with a single button click.
Creating Polygroups has never been so easy. With PolygroupIt you can delete, add, copy & paste, grow or shrink, create Polygroups symmetrically and even use PolyPaint to trace out exactly what you want your Polygroups to look like.
---
Features in ZBrush
Snapshot3D
ZRemesher
ZColor
Gizmo 3D
Transform Multiple Subtools at Once
Deformations
Interactive Primitives
Alpha 3D
Multi Vector Displacement Mesh
Lazy Mouse 2.0
IMM Selector: Brush Content Management
Universal Camera
Intersection Masker
3D Text & Vector Shape Creator
Multiple Language Support
New Lightbox w/ 3D Content
Updated User Interface
ZSphere Dynamesh Mode
Alpha Streaks
Brush Magnify
Plug-in Updates
---
ZModeler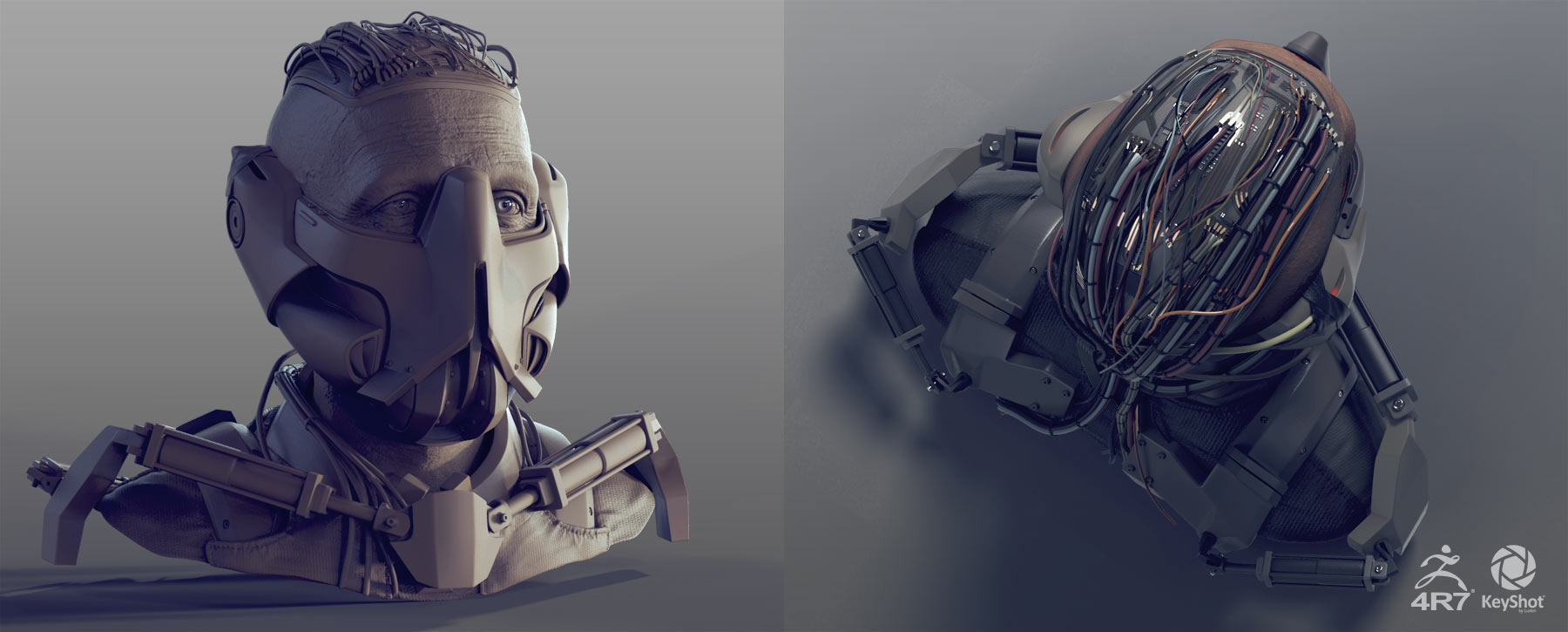 This smart polygonal modeling system is designed to simplify your creation process. Quickly and dynamically create new shapes, doing so more easily than ever before possible: fuse polygons, delete full blocks of geometry, connect parts with advanced paths, and repeat your actions with a single click!
With the ZModeler brush, ZBrush takes a quantum leap beyond the organics that it is already relied upon for. You can refine the shape of your model in real-time to revolutionize how you create hard surface models, architectural structures or highly detailed environments.
Core Functions:
QMesh Action
The ZModeler brush contains most of the common functions found in 3D modeling packages and also has a few smarter ones like the QMesh Action. Not only does this offer you the ability to extrude but also to fuse the extrusion with any adjacent or crossed polygons. Or it can remove blocks of polygons. The QMesh Action will also move pieces of geometry or extract an area to create a new polygonal island. It's versatile and intelligent.
Repeat Last
Because some polygonal modeling actions are repetitive by their very nature, the ZModeler brush stores all settings and values used in your last Action. You can then simply click once on your selection to instantly reproduce that last operation. It works for all ZModeler Actions, saving both time and tedium!
Dynamic Subdivision
Traditional subdivision surfaces allow you to preview a more tessellated version of your model while editing at the base mesh level. Dynamic Subdivision provides a powerful alternative. It is comprised of three internal subdivision systems: QuickGrid, Flat Subdivision and Smooth Subdivision. These systems provide you the ability to create real-time bevel effects on your model or simply view a smooth surface aspect. Since it's dynamic, you can swap between or combine modes, even applying changes to the settings or density at any time!

The ZModeler brush contains thousands of Action and Target combinations, putting astonishing power behind something that is so easy to learn and use. With just a little practice, ZModeler and QMesh will undoubtedly become a new favorite in your arsenal for creating low-res geometry assets in ZBrush.

Instances and Details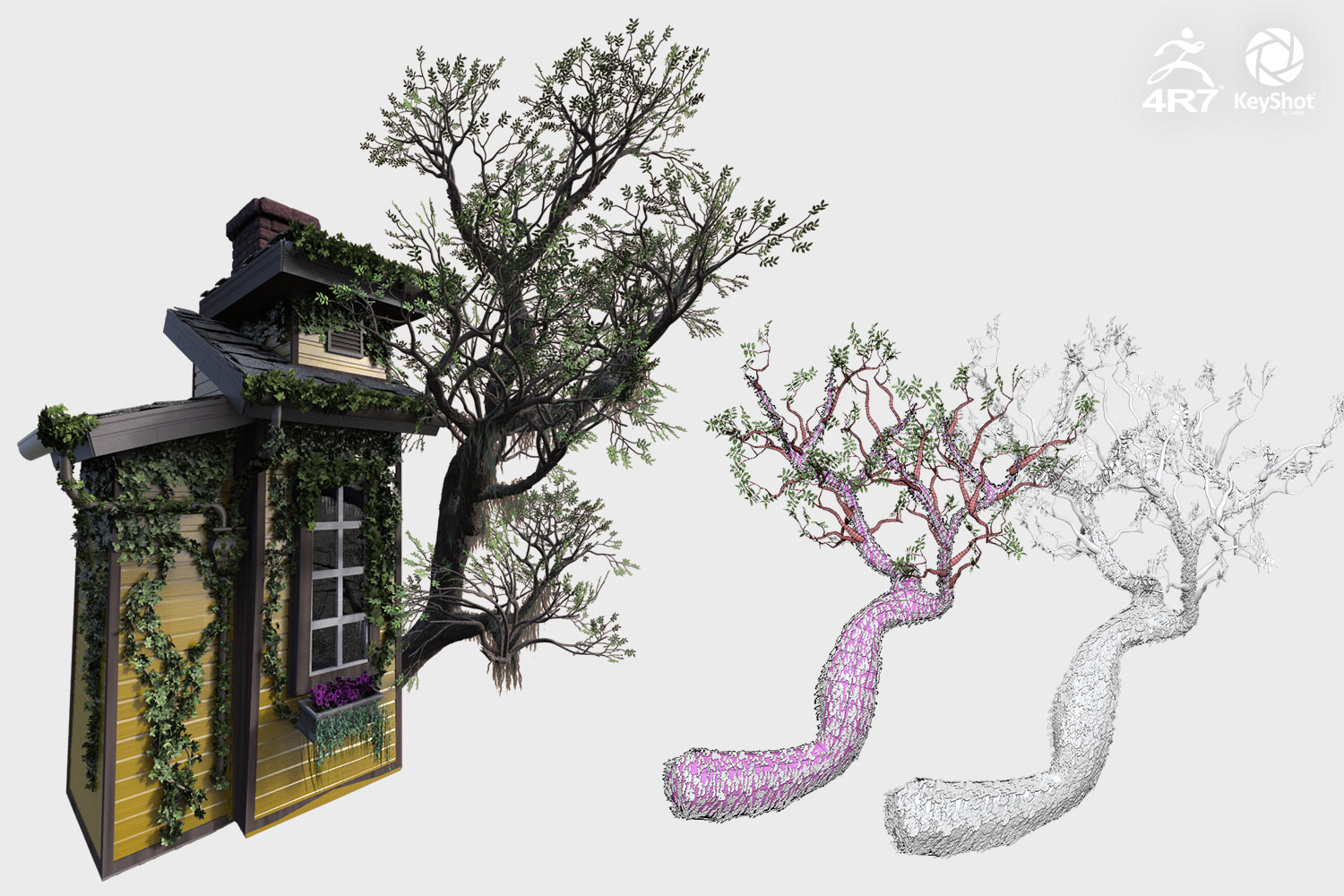 With the new NanoMesh and Array Mesh features, you as the artist can bring more complexity and detail to your work while still maintaining a low polygon count. Both NanoMesh and ArrayMmesh will allow for multiple instances of any object to be created and then adjusted in a matter of seconds.
NanoMesh 
Combined with ZModeler, the new NanoMesh system takes the process of using ZBrush's InsertMesh to a new whole level. The 3D models inserted into a mesh can be populated based on a specific ZModeler Target. This result can then be modified in real time by adding variations to instance scale, offset, angle and multiple alignment options.
If the default variations options are not enough, there is also a random distribution mode that propagates the NanoMeshes in a naturally random way across the surface of the model.
ArrayMesh
ArrayMesh operates in real time as you edit the content of the original mesh or use TransPose action lines to adjust placement, deform the mesh (along with its copies) and much more.
ZBrush also incorporates into this a multiple stage system which will allows you to stack separate Array functions on top of each other. 

Render with Complete Details - Surface Noise

With ZBrush the BPR Render system will now render all Surface Noise as displacement, deforming the mesh to match the attributes of any procedurally created noise. It is like having a displacement map without needing to actually create the map. See extremely detailed results at render time regardless of polygon count. 
The ZBrush Surface Noise capabilities have been improved to support more than one noise source at any given time. Now, whether your noise is a grayscale texture or generated procedurally using the Noise plugin, all sources can be modulated with various mix modifiers and curve functions to create very unique results.
Build your own library of presets and reuse them in future projects to create rich and subtle surface details. It will be impossible for viewers to spot the repeating patterns which are inherent in noise generation systems, which means that your creations will look more real than ever before.
Displacement Rendering
Whether you are using BPR or the ZBrush to KeyShot Bridge, you can now see procedural and texture-created surface noise rendered as displaced geometry. This process is automatic; after designing your noise you no longer need to worry about applying it before you can view the result on your geometry. All you need to do is render! This feature can also be applied to NanoMeshes. 
ZBrush to KeyShot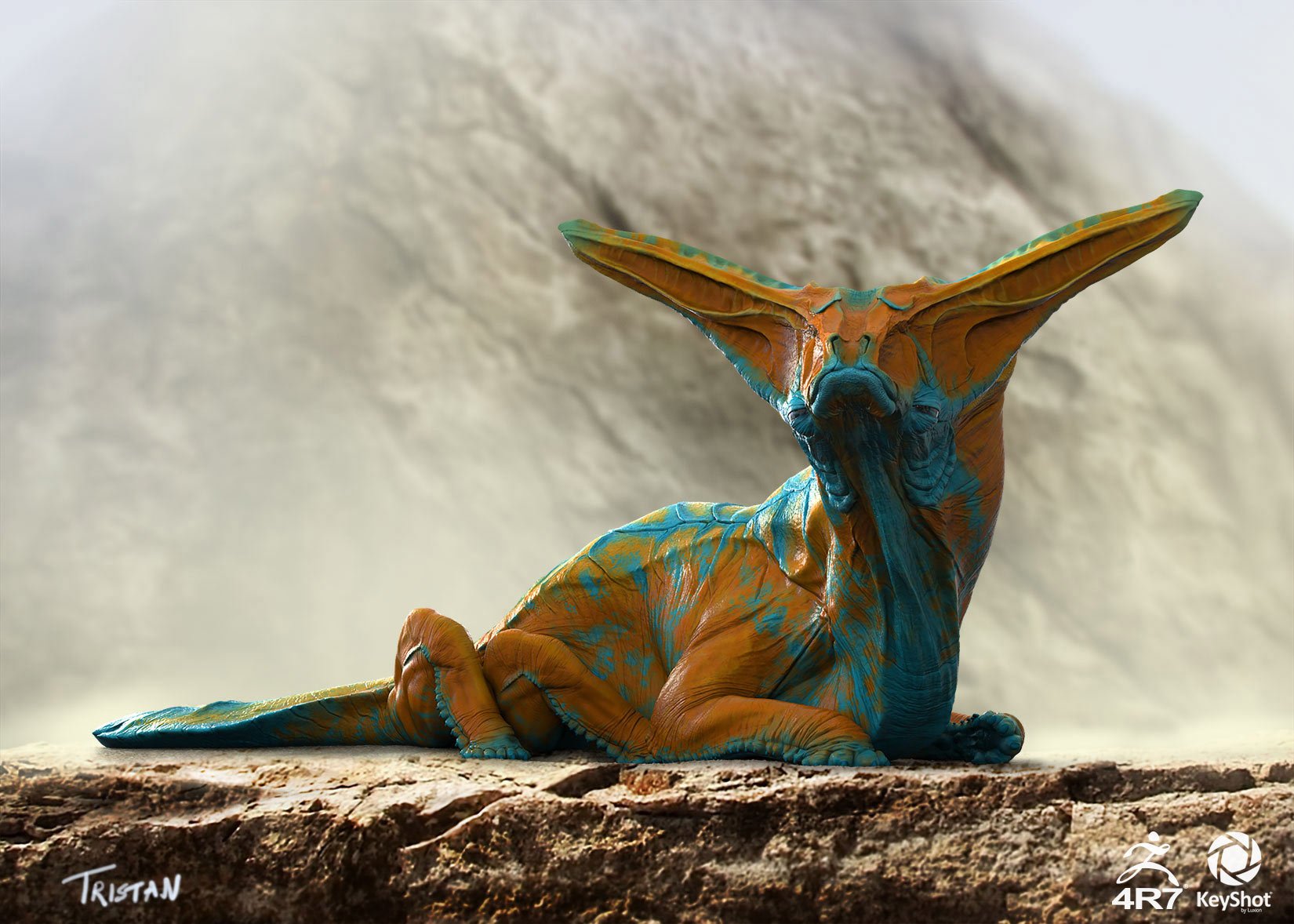 With the ZBrush to Keyshot Bridge you can seamlessly connect ZBrush with KeyShot to produce hyper-realistic and high quality images. 
The KeyShot to ZBrush Bridge changes your Best Preview Render (BPR) button to instead send your models to KeyShot with a single click. All associated data transfers automatically, including materials, displaced geometries, procedural noise, PolyPaint or textures -- and of course the new NanoMesh and Array Mesh. If ZBrush can display it, KeyShot can render it.
True One-Click Transfer
When the ZBrush to KeyShot Bridge is enabled, KeyShot becomes a substitute for ZBrush's BPR render. Clicking the BPR button in ZBrush will now send all data to KeyShot automatically. You won't need to worry about selecting your models, converting your noise to real geometry, generating displacement maps or anything else. ZBrush will do it all automatically.
ZBrush Data Support
The ZBrush to KeyShot Bridge supports: ZSpheres, ZSketch, MatCaps, PolyMesh 3D, Surface Noise and more. If you can generate it in ZBrush, it can be sent via the ZBrush to KeyShot Bridge!
FBX Import/Export 
To continue improving its integration with the artist's pipeline, ZBrush introduces a new free plugin: FBX Import Export. This supports texture, normal and displacement maps, blendshapes, smoothing based on normals and more.
Other Enhancements and Additions 
Replay Last can now be reapplied to any portion of the model. 
Background images applied with the Grid system can now be projected onto your model for a painted guide in your newest creations. 
Start any sculpt with the new polygonal Cube, Sphere and Cylinder primitives. 
Automatically center the TransPose line on any unmasked, partially visible or symmetrical piece of geometry with one click. 
Copy and Paste between Tools, SubTools and even Projects. 
Windows
ZBrush is ZBrush and ZBrushCore are CPU-based software, meaning that a special video card is not required to get the best results when running the applications. ZBrush and ZBrushCore will work on most computers running Mac OS X and Windows.
Highly Recommended Specifications:

OS: 64-bit editions of Windows Vista or newer.
CPU: Intel i5/i7/Xeon technology or AMD equivalent.
RAM: 8 GB required for working with multi-million poly models. (16+ GB preferred.)
HDD: 100 GB of free hard drive space for ZBrush and its scratch disk. (SSD drive highly recommended.)
Pen Tablet: Wacom or Wacom compatible. (WinTab API.)
Monitor: 1920x1080 monitor resolution or higher with 32-bit color.
Video card: Most cards manufactured 2008 or newer. Must support OpenGL 3.3 or higher.

Minimum System Requirements:

OS: 64-bit editions of Windows Vista or newer. (32-bit operating systems are no longer supported.)
CPU: Core2duo or AMD equivalent with SSE2 technology or better.
RAM: 4 GB (6+ GB strongly recommended)
HDD: 8 GB of free hard drive space for ZBrush and its scratch disk.
Pen Tablet: Mouse or Wacom compatible (WinTab API) pen tablet.
Monitor: 1280x1024 monitor resolution with 32-bit color.
Video card: Most cards manufactured 2008 or newer. Must support OpenGL 3.3 or higher.
Mac
Highly Recommended Specifications:

OS: Mac OSX: 10.10 or above.
CPU: Intel i5/7/Xeon technology.
RAM: 8 GB required for working with multi-million polys. (16+ GB preferred.)
HDD: 100GB of free hard drive space ZBrush and its scratch disk. (SSD drive highly recommended.)
Pen Tablet: Wacom or Wacom compatible. (Carbon API.)
Monitor: 1920x1080 monitor resolution or higher with millions of colors.
Video card: Most cards manufactured 2008 or newer. Must support OpenGL 3.3 or higher.

Minimum System Requirements:

OS: Mac OSX: 10.10 or above.
CPU: Core2duo with SSE2 technology or better.
RAM: 4 GB (6+ GB strongly recommended)
HDD: 8 GB of free hard drive space for ZBrush and its scratch disk.
Pen Tablet: Mouse or Wacom compatible (Carbon API) pen tablet.
Monitor: 1280x1024 monitor resolution with millions of colors.
Video card: Most cards manufactured 2008 or newer. Must support OpenGL 3.3 or higher.
More Information

| | |
| --- | --- |
| Brand | Pixologic |
| Delivery Type | Digital Delivery By Email |
| Processing Time | 1 Working Day |