KeyShot HD 3D rendering software is possibly the fastest, easiest way to create amazing, photo-realistic images. Superb performance, widely used - KeyShot is a reliable, versatile and powerful standalone renderer.
Upgrade HD to Pro at a Discount
Save 15% on the cost of upgrading from KeyShot 10 HD to Pro with maintenance!
Delivery Type
Digital Delivery By Email
Processing Time
1 Working Day
Why buy from us?
Price match guarantee
Great service
Independent advice
Flexible payment options

KeyShot 10 HD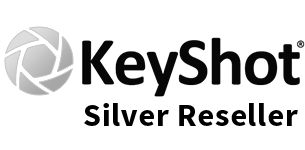 KeyShot HD is a cost-effective and powerful 3D renderer. It's one of the most straight-forward 3D rendering applications available, with a simple and intuitive interface for both Mac and Windows. High quality results can be achieved very quickly, and Keyshot lends itself well to a wide range of industries. Our KeyShot customers include product and industrial designers, vehicle design companies, jewellers and architects - amongst many others.
Create interactive web and mobile content. Render with multiple GPUs. Generate realistic woven materials. KeyShot provides the advanced features and flexibility you need to take your visuals to the next level.
To find out the differences between the versions of KeyShot, view the
KeyShot Comparison
.
If you'd like to try KeyShot for yourself, request a free
KeyShot Trial
.
New in KeyShot 10.1
Collision Detection and Settle
KeyShot 10.1 includes basic Collision Detection of objects, along with the ability to Settle items on other objects and the ground. Included in the new Move Tool, Collision Detection and Settle is useful for scene setup when objects need a more realistic arrangement on the ground or amongst other objects. Collision Detection may also be used separately as an easy way to align objects while keeping them aware and separate from other objects in the scene.
Smart Export/Import Enhancements
KeyShot 10.1 introduces the ability to export a KeyShot file into separate USDz and GLB files as part of one export process that performs the Baking and UV unwrapping together, allowing easy creation of files that work for both Apple iOS (USDz) devices and Android/Web (glTF/GLB). Baking and UV Unwrapping can now also be canceled. USD import has also been added to the Import options for KeyShot to allow you to advance the appearance of their model then export it to multiple AR platforms.
Lighting Enhancements
For the Light Manager, KeyShot 10.1 introduces the ability to select and control multiple lights simultaneously, making proportional adjustments to the entirety of a scene's lighting or select lighting, fast and efficient. KeyShot 10.1 also improves Light Gizmo and Light Manager usage by introducing the ability to sync changes and undo changes using Ctrl-Z (Windows)/command-Z (Mac) or via the Edit, Undo menu.
Introduced in KeyShot 10
Sun & Sky Day Arc Animation
Adjust the date, start, and end time or apply individual keyframes for precise control. It's never been this easy to animate daylight in your scenes.

Keyframe Animation
Add and adjust keyframes exactly where you need them, or record sequences to quickly create complex visuals.

Twist Camera Animation
Add a bit of drama with a subtle (or dramatic!) camera angle. KeyShot 10 adds the ability to animate the Twist parameter of your camera.

Environment Rotation Animation
No matter if it's a standard environment or your own custom HDRI, you can control how the environment light rotates and the speed that it moves across your product.

Light Manager & Gizmos
Light Manager lets you control all of your scene lighting from one location, while new Light Gizmos allow fast adjustment of IES Lights, Spotlights, and Point Lights in both Real-Time and Geometry view.

Smart Export
The new Smart Export feature utilises KeyShot's UV Unwrapping and Baking capabilities to prepare assets for AR, Web, and full colour 3D printing.

Firefly Removal
Denoise now includes a Firefly Filter to quickly smooth or remove unwanted specks of light in your scene.

RealCloth 2.0
If you were impressed by RealCloth before, this updated version will take your designs even further with improvements including 3D Ply for yarn-like geometry, and increased fibre detail for the most realistic representation of individual threading.


What Else is New?
Improved Denoise
New 'Solo' Mode
Locked Camera Mapping
Network Rendering Speed Improvement
Flip Normals
Name Template Updates
Improved Caustics
Improved Move Tool
Sub-Material Save
Improved Toon Material
FBX Import
Save Scene Performance Mode
Render with Multiple GPUs

Available for both real-time rendering and local render output, the new GPU Mode allows GPU resources to be accessed with one click. Harness the GPU-accelerated ray-tracing power of NVIDIA RTX with OptiX.

 
 

Realistic Woven Materials

RealCloth Pro technology by Luxion is a new material type which lets you create and visualise realistic woven materials, including control over the weave and flyaway fibers.

Edges Anywhere

With the Contour texture, you now have control and flexibility while creating custom materials. Add an illustration-like effect, or use it on top of real world materials like metals and plastics.

 
 

Fuzz Material

The new material geometry shader, fuzz, brings a whole new level of realism to your products. Add any amount of fuzz on the surface of a meterial in the Material Graph (Pro), and you can control the length, density and randomness for the perfect look.

Interactive Web and Mobile Content

Introducing the power to generate interactive browser-based product configurators. Create fully-rendered product variations using the models, materials and studios of your choice.

 
 

Smoother Renders

Working with both CPU and GPU Mode to eliminate noise, the denoiser creates smooth, fast and beautiful renderings in the real-time view and final render output.

Specially Curated Library

A new library filled with high quality 3D models to complement your scene, that are complete with textures and materials. Easily searched, filtered and added to any scene as a simple drag and drop.

 
 

Generic (BRDF) Material

Only generic in name, this material's flexibility is near limitless. Adjust sheen, clearcoat, metallic, anisotropic and more.
Plugins
Keyshot is a standalone renderer, and does not run as a hosted plugin on a parent 3D modelling app. An investment in Keyshot can be very economical over time - especially if your 3D modelling workflow changes, or different team members or suppliers produce 3D work in different applications. In addition to being able to process almost any kind of 3D file, Luxion Keyshot comes with free plugins for:
More Features
Animation Curve Control
Customise the motion or appearance of an animation, or a material colour.
Streamlined Import
Import a KeyShot package into an open scene with only the models, cameras, and environments you want.
Substance Painter Import
Make textures pop by automatically generating KeyShot materials from the texture sets you create in Substance Painter.
Browzwear VSticher Plugin
A new plugin for VStitcher, a leading clothing design software package.
X-Rite AxF 1.6
The industry standard appearance exchange format (AxF) from X-Rite is packed with even more power and fully supported in KeyShot. The flexible file format now displays accurate appearance attributes for translucent and cloudy plastic-like materials.
Feature Comparison
 
KeyShot HD
KeyShot Pro
KeyShot Pro Floating
KeyShot Enterprise
License Type
Node Locked
Node Locked
Floating/Networked (FlexLM)
Floating/Networked (FlexLM)

Features

Import 30+ 3D File Formats
CPU and GPU-Based Real-Time Ray Tracing
Progressive Global Illumination
Scientifically Accurate Materials
700+ Material Presets
Cloud Library
Axalta Paints / Mold-Tech Textured Plastics
Scattering Medium / Volume Maps
Cutaway
Multi-Layer Optics
Material Import
Material Templates
Colour / Specular / Bump / Opacity Textures
Image Textures
Pantone / RAL / CIE Colours
HDRI Lighting
50+ HDRI Environment Presets
Physical Lighting
Backplate Images
Image Styles
Denoise
Product Mode / Interior Mode Rendering Methods
Interactive Scene Tree
Interactive Camera Controls
Depth of Field
Camera Walkthrough
Camera Shift Lens
Rounded Edges
Unlimited Real-Time Output Resolution
Render Output Image Editor
Customisable UI
Customisable Hotkeys
Workspaces
Save Reminders
Backplate Perspective Matching

Includes everything in KeyShot HD PLUS...

Material Graph
Multi-Material
Geometry Shaders
RealCloth Edit Weave
Panoramic Camera
Real-Time Stereo Rendering
Model Sets
Studios
Configurator
Interactive HDRI Editor
Geometry Viewer
NURBS Ray Tracing
Re-Tesselate
Region Rendering
Render Queue
Render Passes
Render Layers
Python Scripting
Advanced Camera Tools
Video Map Texture
Deformation Animation
Movie Output
Export to ZPR/STL/OBJ/FBX/GLB/GLTF

Includes everything in KeyShot Pro PLUS...

FlexNet Server (Win / Mac / Linux)
Floating License Manager

Includes everything in KeyShot Pro Floating PLUS...

KeyShotWeb
32 Core Network Rendering
Siemens NX Plugin

KeyShotWeb
Add-on Available
Add-on Available
Add-on Available
Included
Network Rendering
Add-on Available
Add-on Available
Add-on Available
Included
KeyShot is designed to run fast on the most basic hardware configurations, or the most powerful of systems, to take full advantage of all CPU cores available and scale performance linearly. To get started, here are the minimum recommendations and system requirements for the latest version of KeyShot:

• 64-bit platform
• 2GB of RAM
• 2GB hard disk space
• Dual-Core CPU
• Monitor resolution of 1024 X 768 or greater
• OpenGL 2.0 capable system
• Internet connection for product activation
Multiple GPUs are supported. For GPU rendering, we recommend graphics cards with a minimum of 8GB memory.
PC

Intel Core 2 or AMD Athlon 64 processor or better
Windows 8, 10, or Windows Server 2012 and above.

Mac

Intel Core 2 Duo with SSSE3 or higher
Mac OS X 10.13 or later
More Information

| | |
| --- | --- |
| Brand | Luxion |
| Delivery Type | Digital Delivery By Email |
| Processing Time | 1 Working Day |