Render[in] is a real-time radiosity engine that fully integrates as a plugin for SketchUp. Powered by the Artlantis rendering engine, Render[in] gives SketchUp users high-definition, photorealistic renders in a robust and easy to use application.
Delivery Type
Digital Delivery By Email
Processing Time
1 - 4 (Business) Hours
Why buy from us?
Price match guarantee
Great service
Independent advice
Flexible payment options

Render[in]
Render[in] is a real time radiosity 3D renderer that plugs directly into SketchUp. Powered by the Artlantis rendering engine, Render[in] gives SketchUp users photorealistic results in an easy to use application.
As with traditional photography, treating colours properly is essential to a good result. Render[in]'s new global illumination engine improves images for a better perception of colours, materials, and textures. A scene's lighting is also easier than ever to fine-tune with the ISO and Shutter parameters.
New in Version 3
New Physical Engine
Pre-Settings
Choose from indoor, outdoor, and low light pre-set modes, and tfind your balance between render speed and quality.
Ambient Occlusion
Create virtual shadows in small areas where natural light doesn't go, to bring more depth to scenes.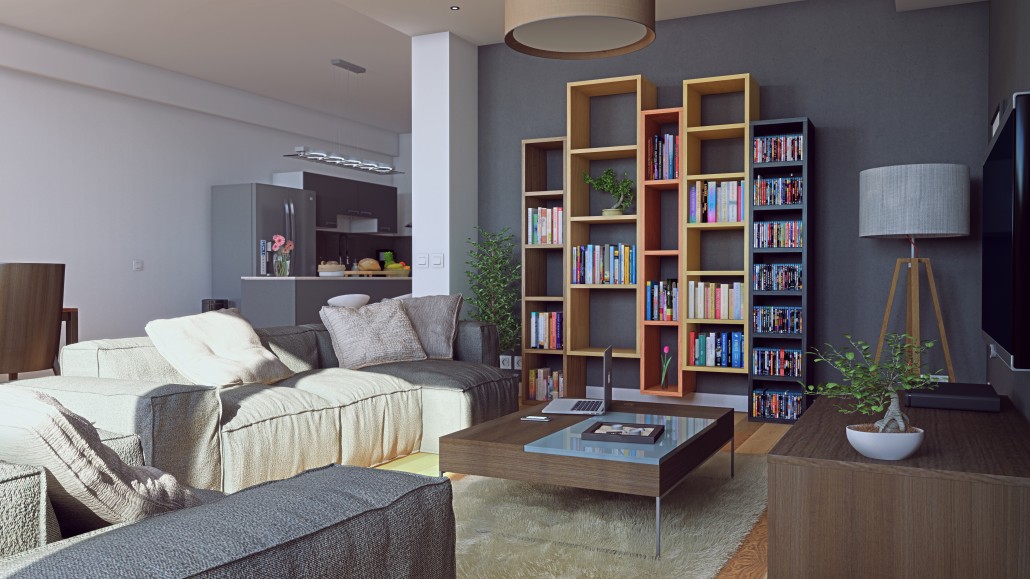 Lighting
Lights
Easily find Render[in] lights in the SketchUp Outliner. A light is created from any SketchUp group or component; a single surface creates a spotlight, while a volume creates a point light.
Neon Shader
Neon lights have been updated with significant quality improvement and calculation speed.
iVisit360
Sharing 360° panoramas on mobile devices or on the Internet is simple, fun and effective with iVisit360 - The technology dedicated to panoramic and virtual tour presentations.
---
Render[in] Features
Real-Time Preview
The Render[in] preview window follows your SketchUp updates and reflects every change you make. With Render[in] you can
Quickly create a high definition rendering with no size limitation
Use existing SketchUp parameters and add new ones
Create a photo-realistic project environment (water, sand, grass) and a 3D sky with clouds
Create artificial light sources or neon surfaces
See the final result in a real-time radiosity preview window
Fully Integrated
There's no need to learn a new software package. Render[in] uses the same SketchUp settings to make learning how to create high-definition renderings fast and easy.
Improved Textures
Render[in] gives you even more texture settings to choose from, like adding specular reflection and shininess on materials, and auto-bump for realistic textures.
3D Environment
With features like realistic 3D sky with four types of clouds, pre-defined ground textures like sand, water, and grass, it's easy to create realistic environment for your scenes. All changes to your scene are updated automatically in the preview window.
Artifical Lighting
With Render[in], you can add spotlights and point lights and change the lighting in your rendered scenes easily and quickly, and see the changes automatically in the real-time preview window. Render[in] also offers Neon lighting - simply change the "light emitting" parameter of the material to light up your scene with this new feature.
iVisit360 Panoramas
Create a true, virtual tour inside your project with multi-node panoramas. Everything needed for viewing panoramas on your website is automatically created by Render[in].
Recommended Hardware
Intel® Core i7, 4+ Core
RAM: 16 GB
Windows 10 (64 bits)
OpenGL Graphic Card with 2 GB
Display Resolution: 1920 x 1080 pixels
Internet Access
Minimum Hardware
Intel® i3 4Core 2GHz
RAM: 8 GB
Windows 7 (64 bits)
OpenGL Graphic Card with 1GB
Display Resolution: 1280 x 800 pixels
Internet access
More Information

| | |
| --- | --- |
| Brand | Abvent |
| Delivery Type | Digital Delivery By Email |
| Processing Time | 1 - 4 (Business) Hours |