With KeyShotWeb, users can create high-quality, touch-enabled, interactive, 360° product views capable of being displayed in any web browser supporting HTML5
*This add-on requires a valid installation of KeyShot (sold separately).
Delivery Type
Digital Delivery By Email
Processing Time
1 Working Day
Why buy from us?
Price match guarantee
Great service
Independent advice
Flexible payment options

KeyShotWeb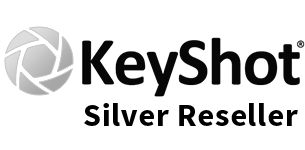 KeyShotWeb is an add-on for KeyShot that combines KeyShotXR and the new Web Configurator.
KeyShotXR is a patent-pending technology that brings the advantage of interactive 3D-enabled viewing via desktop, laptop or mobile device to produce portfolios, presentations and collateral for design reviews.
Product designers, marketers and KeyShot users who want to extend the presentation of their visuals are able to create the high-quality, ray-traced 3D content directly from inside KeyShot. KeyShotXR is an integrated add-on to KeyShot Pro that automatically generates the code to be embedded into any website or company intranet, making it a turnkey solution for web content creation.
How it works
With KeyShotXR enabled via an upgraded KeyShot license file, an addtional VR button will appear in the toolbar. When a scene is loaded and the XR button is pressed, a wizard guides the user through the setup of the VR, with on-screen, interactive feedback of the final XR result. KeyShot will produce the individual images of the XR content, the HTML code for integration into any website and the JavaScript to support progressive loading of images.
KeyShot XR Features
6 XR types: Turntable, Hemi-spherical, Spherical, Tumble, Animation, Custom
Output: jpg, png
Zoom/Fullscreen options
Set horizontal/vertical frames
Set start and end angle interactively
Unlimited output resolution
Adjustable rotation damping
iBook widget creation
Render queue support
Network Rendering support
Background render support
Realtime feedback: play, tweak, etc. for desired result as you setup XR
Compression quality control: small size with highest quality images
Floating license: KeyShotXR can be checked out separately when checking out a floating license.
Web Features:
Zoom in/out
Fullscreen mode
Responsive sizing
Automatic upload to FTP server
Touch enabled: rotate, zoom, pan
Customizable play and resize buttons
Progressive loading: rotate images as soon as they start loading
Customizable settings to adjust user experience: rotation damping, mouse sensitivity, zoom in/out, start frame, LOD
More Information

| | |
| --- | --- |
| Brand | Luxion |
| Delivery Type | Digital Delivery By Email |
| Processing Time | 1 Working Day |