KeyShot Network Rendering (12 Months)
KeyShot Network Rendering allows you to take advantage of your network resources to substantially reduce time spent rendering images and animations.
Delivery Type
Digital Delivery By Email
Processing Time
1 - 4 (Business) Hours
Why buy from us?
Price match guarantee
Great service
Independent advice
Flexible payment options

KeyShot Network Rendering (12 Months)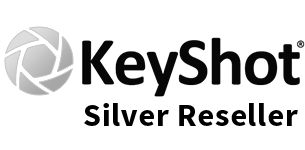 KeyShot Network Rendering is additional software for existing KeyShot users which makes use of other machines on the network to maximise processing capacity. It works with all versions of KeyShot and the slave machines do not need KeyShot present. With a variety of settings at both master and slave UIs, it's easy to configure the best use of resources to maximise results whilst not inconveniencing other workstation users.
Licensing is based on cores per annum - where a thread is considered a core.
This license includes all upgrades during the term and will expire 365 days after the date of activation.
Turbocharge Keyshot with Network Rendering
Implementing KeyShot Network Rendering on your site allows you to take advantage of your network's computer resources for rendering images, animations, and KeyShotVR's. After the simple installation process, any user with KeyShot can send a job to be rendered on the network. The jobs are organised into a queue that all users can view. Jobs can also be sent from the internal KeyShot queue to network rendering.
How it works
KeyShot Network Rendering system consists of three elements: Master, Slaves, and Queues. The Master manages the network resources. The Slave does the actual rendering of each job. The Queue shows the jobs that have been submitted to the Network Rendering system. After the job is submitted, the Queue can be closed or disconnected from the network.
User Management
Manage all of the users in your organization with the ability to assign specific privileges based on role or usage. Easily add, remove or change passwords and privileges for each user all from a single screen within the user management system.
Slave Management
Manage your slave computers, scheduling them for use at specific times or days. Set the number of cores allowed for each slave and see immediately what computers are allocated for use, with the ability to utilize computer power without KeyShot being installed.
KeyShot Network Rendering Features
Manager/Worker-System – independent of KeyShot, i.e. KeyShot doesn't have to be installed on the Worker system
Easy to install and administer – simply install, and follow the instructions.
New updates will be downloaded from within the network Monitor
Network Render Monitor – everyone can send jobs to the network for rendering.
User system – allows for user accounts to have manageability over current jobs in Monitor
Workers will be connected automatically by sending packets across the network for detection by the Manager for connection
Monitor shows current frame being rendered and remaining time of job
Jobs can be prioritized within the Monitor
Supports an "unlimited" number of Workers with any number of cores (physical / virtual)
Worker tray application, allows the user to update the number of cores being utilized on the network
Partial image download – if the image is not done rendering, you can download the rendered results.
Worker scheduling allows slaves to become active or inactive at scheduled times (user system must be enabled, with appropriate privilages)
Workers can be added or subtracted anytime, i.e. before, or after rendering.
Works with all versions of KeyShot
Since KeyShot's performance increases linearly, the render performance doubles when the number of cores doubles
Manager can be installed on PC, Mac or Linux
Support Workers on both PC and Mac
KeyShot is designed to run fast on both basic hardware configurations, or the most powerful of systems to take full advantage of all CPU cores available and scale performance linearly. As your computer gets more powerful, KeyShot becomes faster. KeyShot's render engine does not make use of graphics cards. To get started, this is all you need as a minimum:

• 64-bit platform
• 2GB of RAM
• 2GB hard disk space
• 3 button mouse
• Monitor resolution of 1024 X 768 or greater
• OpenGL 2.0 capable system
• Internet connection for product activation
PC

Intel Core 2 or AMD Athlon 64 processor or better
Windows 7, 8, 10, or Windows Server 2012 and above.

Mac

Intel Core 2 Duo or higher
Mac OS X 10.8 or later
More Information

| | |
| --- | --- |
| Brand | Luxion |
| Delivery Type | Digital Delivery By Email |
| Processing Time | 1 - 4 (Business) Hours |