Indigo RT offers Multi-GPU and CPU rendering with fast speeds at a low price. With aperture controls, RGB colour curves, material previews and more, Indigo RT offers some of the highest quality renders in the market.
Indigo RT is for artists that demand the highest rendering quality, but don't need to extra features aimed at specialist applications.
Indigo RT supports SketchUp, Cinema 4D, 3ds Max, Revit, and Blender.
Delivery Type
Digital Delivery By Email
Processing Time
1 Working Day
Why buy from us?
Price match guarantee
Great service
Independent advice
Flexible payment options

Indigo RT 4
Indigo RT features all the rendering speed and accuracy of the full Indigo Renderer, without the extra functionality aimed at specialist applications. Indigo accurately simulates the physics of light which create many realistic effects that otherwise would have to be manually created. Because of this, it takes far less set-up time than traditional biased or 'global illumination' renderers. Simply creating a glass object and a light will produce beautiful caustics.
SketchUp, Cinema 4D, 3ds Max, Revit, and Blender are officially supported to work with Indigo.
Multi-GPU Rendering
Indigo RT uses Indigo Renderer's new OpenCL-based GPU engine that provides industry leading performance on Nvidia and AMD graphics cards on all major operating systems. With a modern GPU, it's approximately 10x faster than the high performance CPU core of Indigo RT 3.8.
You also have the option to add more cards to your computer and get the horsepower to quickly render incredible 4K images and animations.
Fast, Flexible Region Rendering
Region rendering is now a snappy and interactive experience. After enabling it, simply drag over desired area and it'll start rendering. The user can render multiple regions at once by shift + dragging, and enable a transparent background with a single checkbox.
Aperture Controls
Render the perfect bokeh by controlling the aperture shape with Indigo's generated aperture, or add your own aperture maps. Cover the lens with custom obstacle maps to create beautiful flare effects.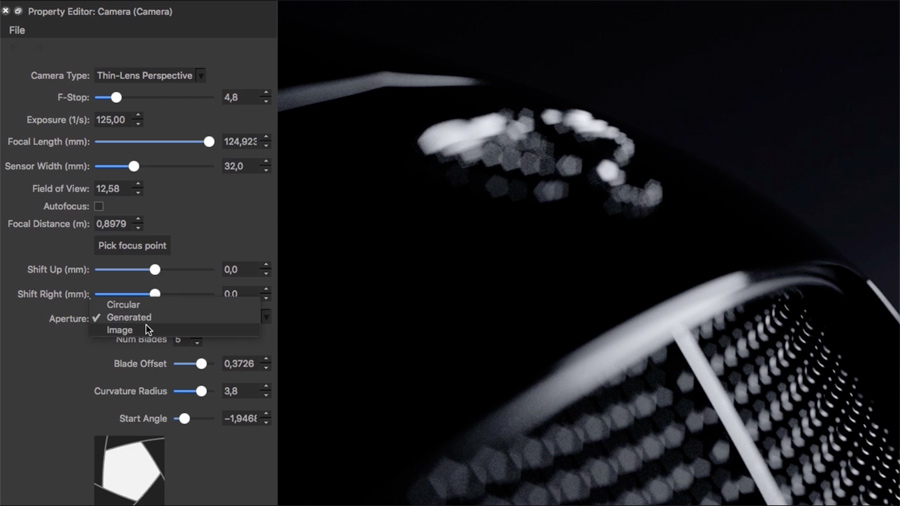 ---
Indigo RT gives you:
A much lower price
Ultimate Image Quality
Multi-GPU Rendering with OpenCL
Realtime Updates While Editing
Physically Accurate Sun and Sky
HDR Lighting
Subdivision and Displacement
Realistic Camera and Lights
Lab-measured Metal Materials
Subsurface Scattering
Object Instancing
Fully Accurate Motion Blur
Production-ready Commandline Build
Indigo RT DOES NOT include:
Section Planes
Orthographic Camera
Spherical Camera
Invisible-to-camera Objects
Shadow-catcher Material
Light Layers
IES Lighting
Network Rendering
EXR Output
For these additional features, please see Indigo Renderer.
---
RGB Colour Curves
RGB colour response curves are a great way to tweak the raw image to get photographic effects. Doing this with Indigo's native RGB curves means it's done in extremely high precision, and doesn't need to be repeatedly added in post-process for several renders.
Material Preview Window
Indigo 4 features a highly customisable material preview window for tweaking the scene materials in a neutral lighting environment. There are multiple sample objects available, and the user can change resolution and render quality of the preview.
Sequence Overrides
An useful new tool for rendering batches of images and animations, the render queue overrides allows you to change render settings for all the frames in the queue, on the fly.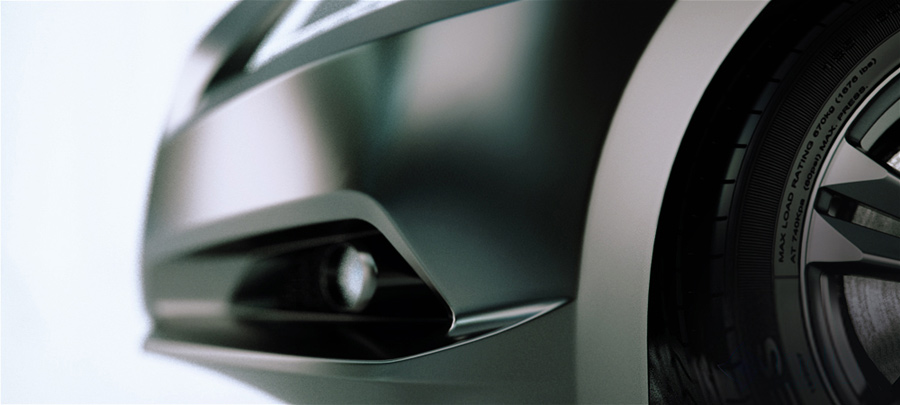 ---
and more..
Faster CPU Rendering

Filmic tonemapping

Adjustable light sampling

Adaptive resolution

Measured BRDF support

Improved MLT Rendering

Contribution Clamping

Faster tonemapping

Optimised material models

Trackball navigation

Pixel info picker

Faster subdiv & displacement
Minimum system specifications:
Windows:
64-bit x86 CPU with SSE4
4GB of RAM
150MB of hard drive space
Windows 7 or newer
Mac:
64-bit x86 CPU with SSE4
4GB of RAM
150MB of hard drive space
OS X 10.8 Mountain Lion or newer
Linux:
64-bit x86 CPU with SSE4
4GB of RAM
150MB of hard drive space
Recommended system specifications:
GPU acceleration
Required:
Either an NVIDIA GPU supporting OpenCL 1.1 (GeForce 9800 GT or newer), or an AMD GPU supporting OpenCL 1.1 (Radeon 4xxx or newer)
256MB or 512MB of onboard GPU memory, depending on OS.
2GB of system memory
Recommended:
Either NVIDIA GeForce GTX 5xx / Quadro 4000 / Tesla C2050 or newer, or AMD Radeon 5xxx / FirePro 3D V3800 / FireStream 9350 or newer
Quad-core or greater Intel or AMD CPU
More Information

| | |
| --- | --- |
| Brand | Glare Technologies |
| Delivery Type | Digital Delivery By Email |
| Processing Time | 1 Working Day |