Shaderlight 2021 for SketchUp
Shaderlight is an interactive and intuitive 3D rendering plug-in for SketchUp that enables anyone to transform a SketchUp model in to a photorealistic render.
Delivery Type
Digital Delivery By Email
Processing Time
1 Working Day
Why buy from us?
Price match guarantee
Great service
Independent advice
Flexible payment options

Shaderlight 2021 for SketchUp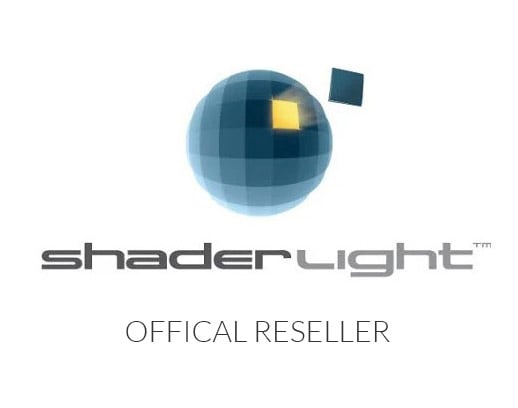 Shaderlight is an interactive rendering software plug-in to SketchUp that lets you create high quality images, quickly and simply.
In addition to SketchUp 2021 compatibility, Shaderlight includes a number of workflow enhancements including the ability to render transparent materials in chalk renders. Shaderlight fits seamlessly with your workflow so you don't have to be a SketchUp rendering software expert to get great results.
What's New in Shaderlight?
Full support for SketchUp 2021.
Improvements to the quality and accuracy of portal lights.
Light Emitting material improvements.
You can now specify the colour of Shaderlight lights by correlated colour temperature.
A new White Balance control allows you to adjust the white point of renders by allowing the white point to be specified and produce images without strong colour tints.
Shaderlight light tool remembers most recently selected light
Transparent objects can now remain transparent in chalk renders
Shaderlight's render settings can now be saved independently for each SketchUp scene
Shaderlight now prevents your computer from entering idle sleep mode while rendering
Addition of a 4K UHD output resolution preset
macOS dark mode is supported in the Shaderlight render window.
Shaderlight will suspend App Nap for the plug-in while a render is in progress on macOS.
Shaderlight warns when using the 'Quit Shaderlight' menu option on macOS while rendering.
Key Features
Shaderlight features transparent materials designed to deliver greatly enhanced realism when rendering transparent materials such as large bodies of water and thick, solid glass objects.



Most of the Transparent materials types use a physically-based model to correctly account for the absorption of light as it travels through the material. This means that thicker objects absorb more light and appear more intensely coloured and darker than thinner objects and provides more realistic renders of deep bodies of water and thick glass objects, for example.

The model is used by the Transparent Solid Glass, Solid Frosted Glass, Liquid and Diamond material presets.

To give a greater range of transparencies, SketchUp's opacity slider is now used to modulate the amount of absorption in these materials. In previous versions of Shaderlight, the opacity slider in SketchUp's material editor had no effect on the Shaderlight render.
Interactive rendering
Shaderlight gives you a choice of rendering modes to optimise your workflow. Choose from progressive rendering with auto-updates for interactive feedback, on demand updates or single (tiled) mode to render at full quality.
Simple interface
Close integration with SketchUp will make you feel right at home - render directly from your SketchUp toolbar, there's no need to import your model first.
Replace Me
Shaderlight's fantastic Replace Me feature lets you render detailed models without filling your SketchUp scene with geometry. Choose from a library of Replace Me models or create your own with the Replace Me creator plugin.
Light fixture library
Create real world lighting using Shaderlight ready light fixtures with embedded IES files to give you the exact light and shadow detail the manufacturer intended.
Refine your image
Even when rendering you remain in control. Use zoom and pan to explore the detail of your image or capture your work in progress renders with the 'snapshot' feature
Real world effects
Add accurate materials and textures to your 3d model with simple presets direct from SketchUp, then use the adjustable settings to get the perfect finish.
Accurate lighting
Illuminate your scene using SketchUp's sun, image based lighting or our physical sky. For realistic interiors simply add a point, spot, area, portal or IES light from Shaderlight's simple light editor.
Photoreal finish
It's never been simpler to show your 3d model in its real-life setting using image based lighting or physical sky and your own background image.  Professional lighting images and backgrounds are included in Shaderlight Pro.
Scene animation
Create photorealistic animations direct from SketchUp with this brand new feature available in Shaderlight Pro.
Presentation tools
Render plans, elevations and isometric viewpoints or choose Chalk Render mode to produce form studies for a quick, clear presentation of your design intent.
Multi platform
Whether you're on a Mac or a PC, running SketchUp Free or Pro, if you're modelling in SketchUp then you can render with Shaderlight.
Free vs Pro
| | | |
| --- | --- | --- |
|   | Free | Pro |
| Renderer |   |   |
| Progressive ray-tracer running in a separate render window | x | x |
| Image auto update (full re-trace)  in response to changes in SketchUp, or on demand image update for full user control | x | x |
| Option to switch to single shot mode for one off renders | x | x |
| Zoom and pan | x | x |
| Snapshot capability to save work in progress rendersa | x | x |
| Multi threading | x | x |
| SketchUp scene animation |   | x |
| Replace Me rendering  |   | x |
| Replace Me creation  |   | x |
| Materials |   |   |
| View material selection in material preview window | x | x |
| Change properties of SU materials using Shaderlight Material Editor | x | x |
| Auto setting applies most suitable Shaderlight parameters to SU library materials | x | x |
| Preset material types with a range of preset finishes | x | x |
| Lights |   |   |
| SketchUp sun and sky support | x | x |
| Image Based Lighting presets (using High Dynamic Range (HDR) environment textures) | x | x |
| Access to light fixture library (2.1 only) | x | x |
| Moofe Professional Image Based Lighting |   | x |
| Custom Image Based Lighting |   | x |
| Artificial lights including point light and spotlights |   | x |
| Area Lights |   | x |
| Skylight Portals for interior daylight |   | x |
| IES profiles support to allow realistic renders of manufacturers lights |   | x |
| Light editor to control light color, intensity and optional elements such as IES profiles |   | x |
| Realistic rendering of interior scenes (Global Illumination) |   | x |
| Physical sky system to accurately render the sun and sky based on date, time and location |   | x |
| Chalk Render mode |   | x |
| Background |   |   |
| Background setting editor with options for SketchUp background color and preset IBL environments | x | x |
| Custom backgrounds and physical sky |   | x |
| Custom backgrounds for use with IBL presets |   | x |
| Camera |   |   |
| Exposure control | x | x |
| Two point perspective | x | x |
| Parallel Projection | x | x |
| Settings |   |   |
| Pre-set resolutions limited to 640 x 480 | x |   |
| Custom and Pre-set resolutions up to 16,000 x 16,000 |   | x |
More Information

| | |
| --- | --- |
| Brand | ArtVPS |
| Delivery Type | Digital Delivery By Email |
| Processing Time | 1 Working Day |