KeyShot CAD to 10 Pro Upgrade
Upgrade KeyShot CAD to KeyShot 10 Pro.
Delivery Type
Digital Delivery By Email
Processing Time
1 - 4 (Business) Hours
Why buy from us?
Price match guarantee
Great service
Independent advice
Flexible payment options

KeyShot CAD to 10 Pro Upgrade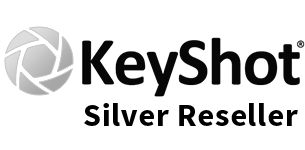 This is an upgrade from KeyShot CAD to the latest version of KeyShot Pro.
For more product information visit the KeyShot Pro page.
KeyShot CAD is a special version of KeyShot that comes bundled with a CAD or 3D modeling program. The following versions of KeyShot qualify for this upgrade:
KeyShot for Alibre
KeyShot for Geomagic Design
KeyShot for IronCAD
KeyShot for Solid Edge
KeyShot for SpaceClaim
KeyShot for ZW3D
KeyShot is designed to run fast on the most basic hardware configurations, or the most powerful of systems, to take full advantage of all CPU cores available and scale performance linearly. To get started, here are the minimum recommendations and system requirements for the latest version of KeyShot:

• 64-bit platform
• 2GB of RAM
• 2GB hard disk space
• Dual-Core CPU
• Monitor resolution of 1024 X 768 or greater
• OpenGL 2.0 capable system
• Internet connection for product activation
Multiple GPUs are supported. For GPU rendering, we recommend graphics cards with a minimum of 8GB memory.
PC

Intel Core 2 or AMD Athlon 64 processor or better
Windows 8, 10, or Windows Server 2012 and above.

Mac

Intel Core 2 Duo with SSSE3 or higher
Mac OS X 10.13 or later
More Information

| | |
| --- | --- |
| Brand | Luxion |
| Delivery Type | Digital Delivery By Email |
| Processing Time | 1 - 4 (Business) Hours |