Altair Inspire software is the industry's most powerful and easy-to-use Generative Design/Topology Optimisation and rapid simulation solution for design engineers.
Please Note: To use Inspire products, you are purchasing Altair Units for licensing.
Delivery Type
Digital Delivery By Email
Processing Time
1 Working Day
Why buy from us?
Price match guarantee
Great service
Independent advice
Flexible payment options

Altair Inspire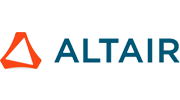 Altair Inspire enhances the concept development process by enabling simulation-driven design to increase your product's efficiency, strength and manufacturability. This can lead to reduced costs, development time, material consumption, and product weight. 
Altair Inspire Key Features
Easily generate dynamic motion of complex mechanisms, automatically identifying contacts, joints, springs and dampers. Forces obtained from a motion analysis are automatically applied as inputs to a structural analysis and optimization, or can be used to determine initial requirements for motors and actuators.
Generate optimized lattice and mixed solid - lattice structures, visualize simulation results in 3D, and export lattice designs in a .stl file format for 3D printing.
View and interactively assign loads to load cases and import / export design loads in .csv file format with the new Load Cases Table.
Design for additive manufacturing with overhang shape controls to help reduce overhangs to create more self-supporting structures.
Automatically optimize the fit of PolyNURBS CAD geometry to generative design results with the new PolyNURBS Fit Tool.

Inspire: Begin Here
Why Use Inspire?
Increase Quality
Altair Inspire allows users to rapidly explore and assess designs for static loads, normal modes, buckling and motion through an intuitive user experience leveraging its embedded physics engine. This enables users to ensure a quality and dependable design prior to any prototyping or production.
Reduce Costs
Leveraging simulation-driven design with Inspire early and often in the design process enables costs savings by reducing material usage, re-design iterations, and overall design time.
Meet Time to Market Goals
Simulation-driven design equips its users with the tools necessary to accelerate their overall design process. Inspire helps them to streamline the production of high-performance, quality parts and products. By utilizing Altair Inspire in the concept design phase, users can arrive at an ideal design concept extremely early in the process and reduce, or even eliminate re-design iterations.
Inspire Features
Geometry Creation and Simplification​
Create, modify, and de-feature solid models using Altair Inspire's modeling tools.
Optimisation Options
Altair Inspire offers a number of topology options including: optimization objectives, stress and displacement constraints, acceleration, gravity, and temperature loading conditions
Analysis
Investigate linear static and normal modes analysis on a model and visualize displacement, factor of safety, percent of yield, tension and compression, von Mises stress, and major principal stress.
Customisable Materials
Altair Inspire is packaged with a material library including various aluminum, steel, magnesium, and titanium alloys. Custom materials can also be added.
Interactive Results Visualisation
Explore optimized shapes using a simple slider to add or remove material. Users can decide which features are important and then pick the concept design best suited to their needs.​
Assembly Configuration
Multiple assembly configurations can be created. These configurations can then be used to evaluate various design scenarios and the resulting concepts.
Windows
Operating Systems:
Windows 10 (64 bit)
Windows 8.1 (64 bit)
Windows 7 (64 bit)
Hardware:
OpenGL graphics card with at least 256 MB of onboard memory
Note: Integrated Intel graphics hardware is currently not supported
Memory:
4 GB of RAM (8 GB recommended)
10 GB or more of free hard disk space
More Information

| | |
| --- | --- |
| Brand | Altair | solidThinking |
| Delivery Type | Digital Delivery By Email |
| Processing Time | 1 Working Day |