Vectorworks Design Suite 2022
Whether your speciality is architecture, landscape, or entertainment design, Vectorworks Design Suite enables you to draft, model, and present in a single, intuitive interface.
Buy Vectorworks and get a perpetual license of Twinmotion FREE including updates until the end of March 2023. Offer must be redeemed before March 2022.
40% Off New Licences with Service Select!
New Customers get 40% off Vectorworks when purchasing with 1 year of Service Select.
Offer ends 03/12/2021
Delivery Type
Digital Delivery By Email
Processing Time
1 - 4 (Business) Hours
Special Price
£3,092.40
£2,577.00
Regular Price
£3,390.00
Why buy from us?
Price match guarantee
Great service
Independent advice
Flexible payment options
Business Leasing
Leasing provides businesses with a way to obtain the software they need at a low monthly cost.

Vectorworks Design Suite 2022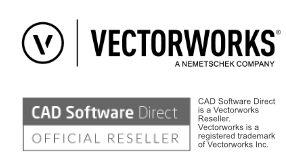 Vectorworks Designer is now Design Suite. Vectorworks Design Suite is the premier software for design professionals in the Architecture, Landscape, and Entertainment industries. Vectorworks Designer provides a competitive edge by offering a large set of design tools - integrating the technology of every Vectorworks product into a single, intuitive interface.
Whether you need to draft, model, or present, Vectorworks Designer is the ultimate solution for the professional who needs it all.

Improvements in Underlying Technology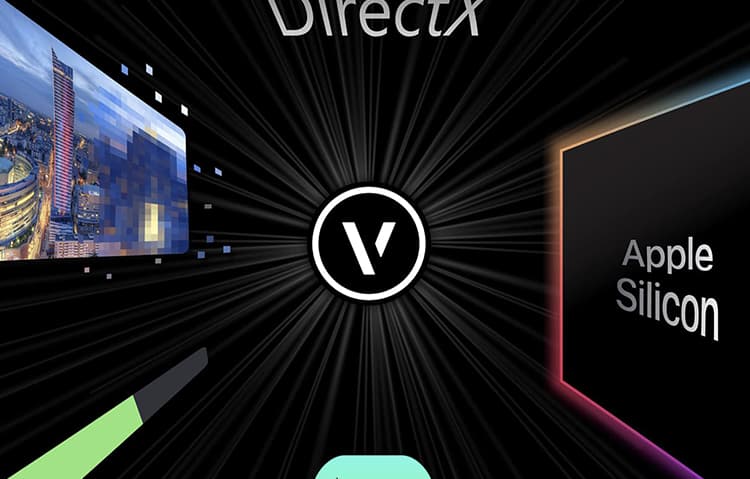 Vectorworks is subject to ongoing development to ensure it can take advantage of advances in both hardware and software technology. Vectorworks 2022 will run natively on the latest Apple silicon (M1) processors, giving positive gains in performance for Mac users and keeping Vectorworks' core technology well-aligned with the future direction of Apple hardware.
Developments have also been under way to increase stability, ensure long-term system interoperability, and improve interactive real-time graphics in critical areas of Vectorworks. As part of a modernisation initiative, Vectorworks have been working to ensure that the Vectorworks Graphics Module (VGM) technology is purpose-built for users' chosen hardware: Metal on Mac and DirectX on Windows. Vectorworks users will be able to leverage the most robust technology available for better file performance.
Redshift Render
In partnership with Maxon, Vectorworks 2022 now incorporates a new GPU-accelerated mode called "Redshift." Redshift speeds up rendering time without sacrificing the quality of users' designs by using features like lighting, reflections, volumetric effects, camera effects, and anti-aliasing.
Direct Link to Twinmotion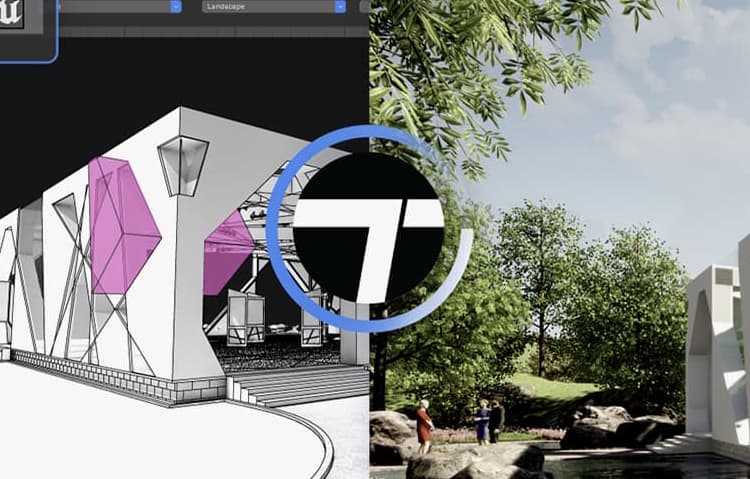 In Vectorworks 2022, there is now a direct link between the Vectorworks model and Twinmotion that allows users to quickly make changes in Vectorworks and easily have them reflected in the linked file. By eliminating the intermediate steps of exporting and importing, users can save time and easily control the quality of necessary geometries.
Interactive UI Improvements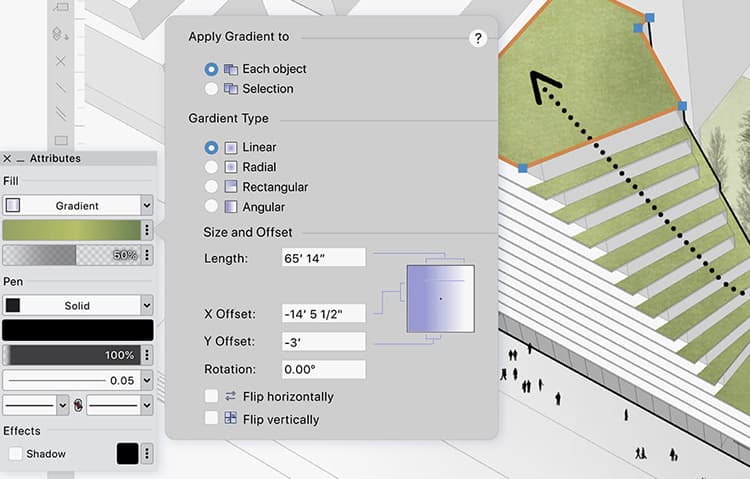 There are significant UI improvements in Vectorworks 2022. Modernisation of the Attributes palette lets users organise their workspace with a more efficient tool palette layout. The new UI also provides accurate and immediate visual previews, removing the need to open dialog boxes. The new Status Bar gives users quick access to the smart cursor settings, hold snapping options, and toggle snapping on or off.
Per-Face Texture Mapping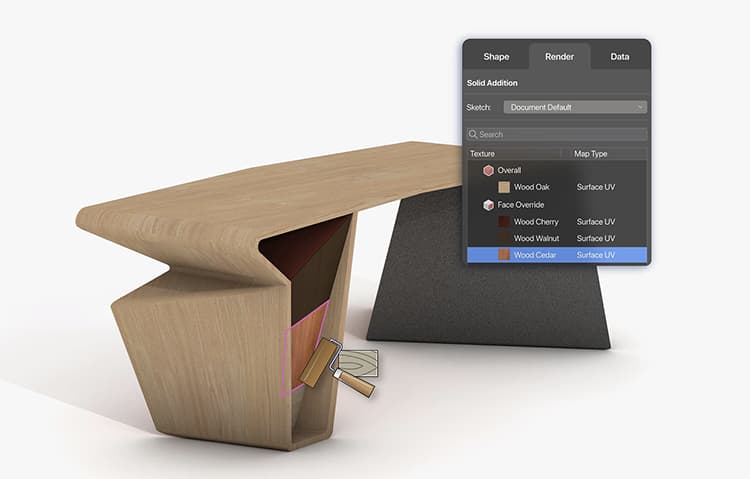 Upgrades to the texturing workflow give users the ability to map textures to different faces of the same solid modelling object with the ability to rescale and more. Users can reduce texturing time with this efficient and more perceptive way to freely create custom objects. The render tab of the Object Info Palette has also been updated to let users easily view and manage the textures on the object's various faces. This feature is not applicable to parametric objects.
Direct Stair Editing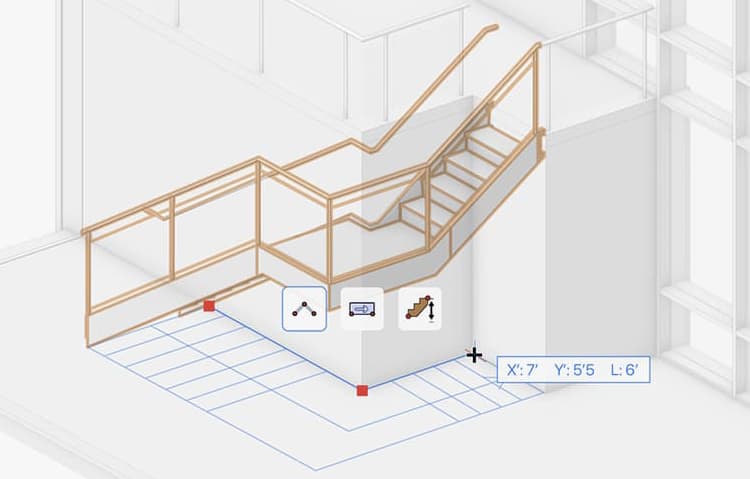 It is now much easier to configure staircases. Enhancements to the stair plug-in object introduce interactive placement and reshaping in both 2D and 3D views. With the new rectangle and polygon mode users can easily place a stair between walls or follow a floor opening without measuring distances. Just draw a rectangle or a path and the stair object is placed. The new tool settings allow users to set the side length, width, and total rise of the stair without opening the dialog box. Users can also use control points to stretch and contract stairs to change the length or curvature within a space.
Wall Component Control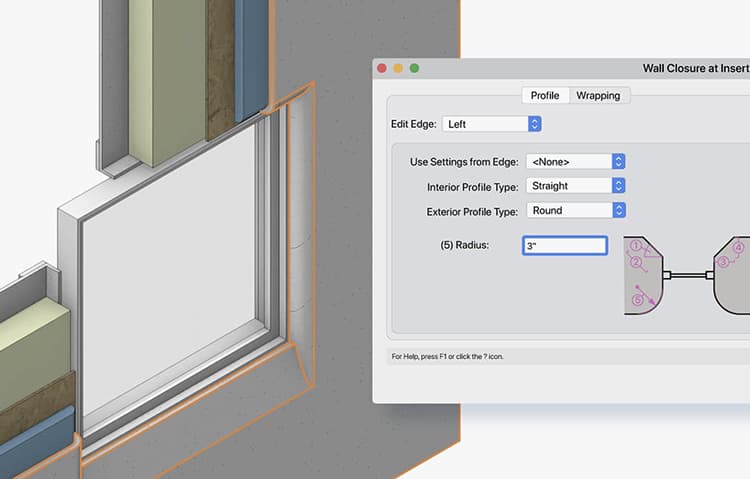 In Vectorworks 2022 users can define wall component wrapping at window and door openings for a more realistic BIM model and accurate 2D drawings. The round wall and straight wall object have been combined into a singular object type (Wall), providing more accurate data and easier reporting.
Worksheet Expansions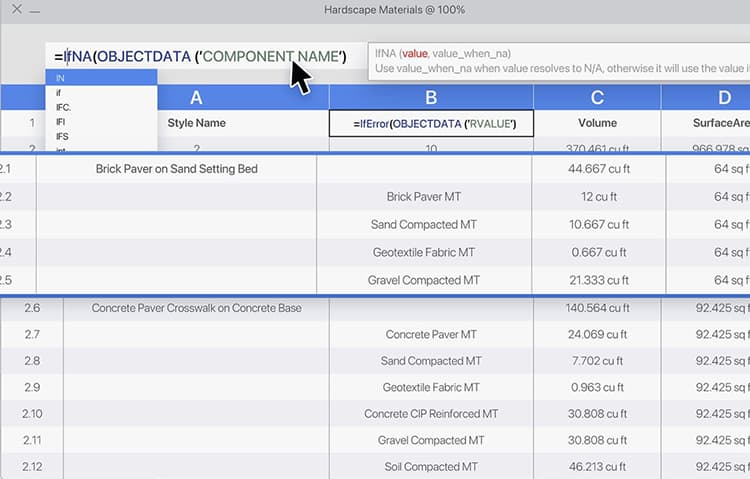 UI improvements make generating targeted reports, schedules, and material take-offs for complex objects easier. Vectorworks 2022 brings simplified worksheets and better visual cues to allow richer reporting of complex models. Between redesigned criteria, a new search function interface, and an improved formula bar with a new set of functions, users won't waste time wrestling with documentation, leaving more time for BIM modelling.
Civil3D DWG Support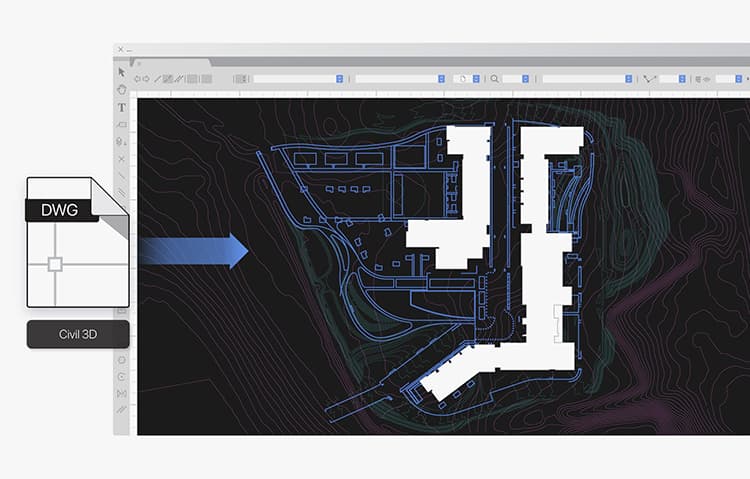 Save time and avoid frustration with improved Civil3D file import. With the latest release, users no longer have to request specially exported DWG files to view Civil3D objects. Instead, these objects will become Vectorworks groups, each containing all of the necessary geometry. And the best part? Exchanges with internal and external civil engineers are handled more directly with less risk todata.

GIS and BIM Exchange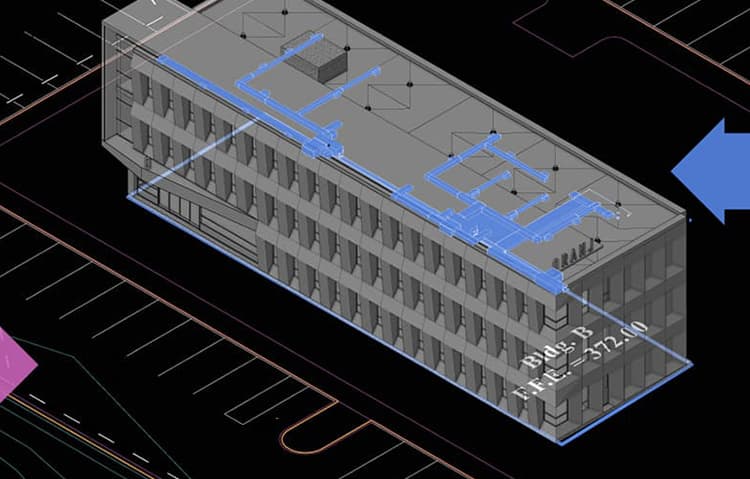 Vectorworks is now better capable of reading the georeferencing data embedded in a DWG file, an image, or an IFC import, so users can now import and export files without losing this data. There are also better default options and improved coordination and alignment when exchanging DWG and IFC files for projects.
Plant Root Zone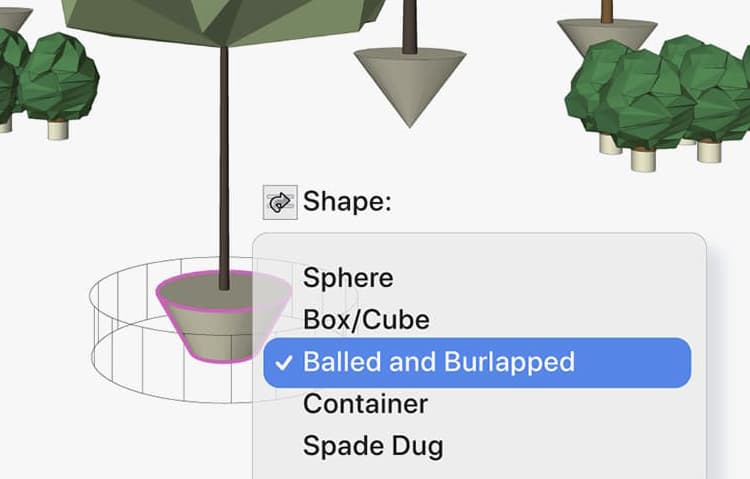 Get complete representations of installed plants with the new root ball settings. The added geometry and specified data for plant root balls provide the crucial information users need to complete usersr BIM for landscape workflow and better collaborate with consultants. The new additions to the Plant Object allow for both 2D and 3D representation of root balls, and excavation zones.

ArcGIS Feature Layers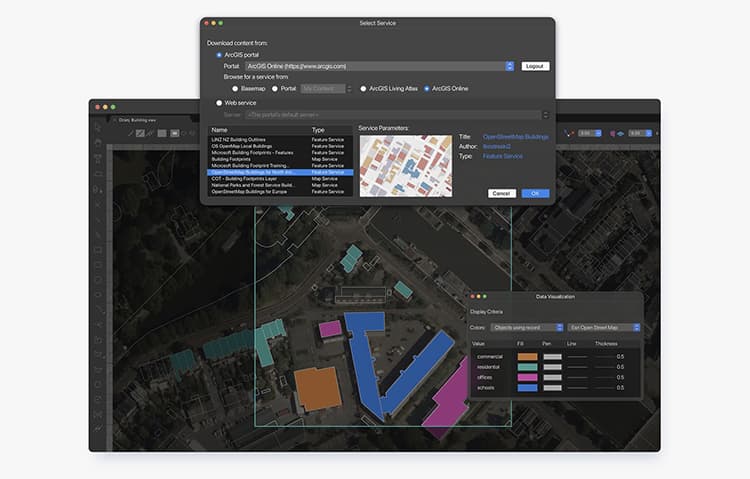 See an efficiency boost within GIS/BIM workflows with easier integration for site planning and collaboration. In partnership with Esri, users can now access, download, and incorporate an incredible amount of information into a design with the vector geometry and data using Vectorworks Layers. Functionality to export and upload from Layers back to the ArcGIS Feature Layers makes it easier to manage specific geospatial data beyond traditional methods and collaborate with GIS professionals.

GIS Support for Tree Surveys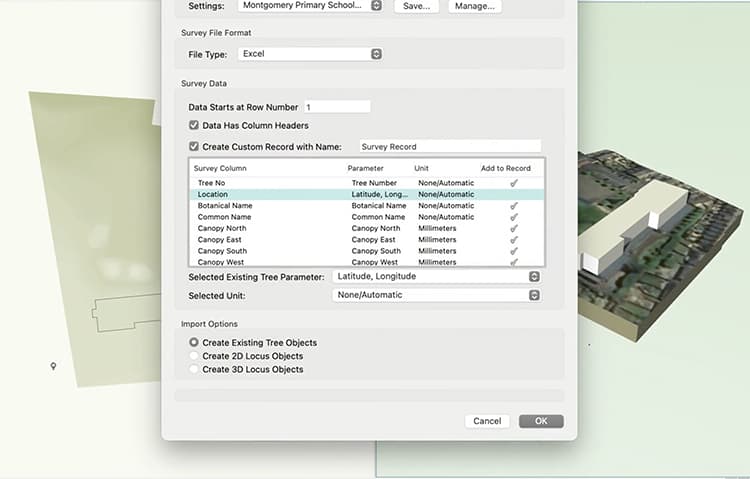 The process for importing various tree survey types is simpler with location parameters for geographical and cartesian coordinates built in with the newly added GIS support for tree surveys. users'll benefit from the new geospatial import methods when documenting existing vegetation for biodiversity and biomass considerations, and import pertinent survey area types like mass plantings, meadows, and more.
Site Model Components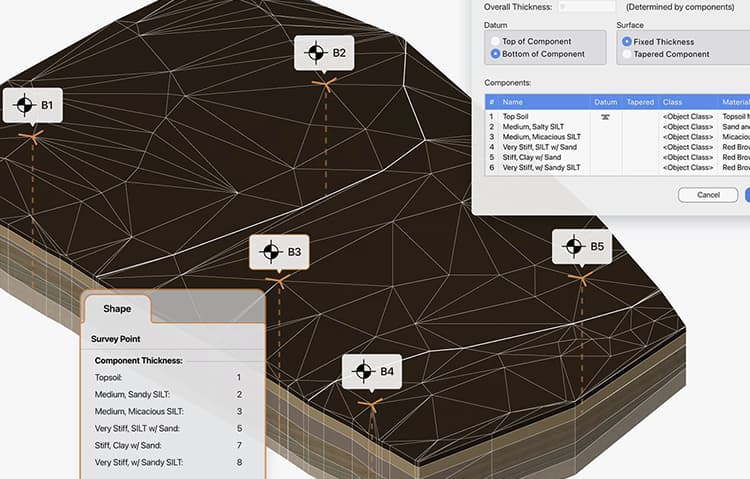 Enjoy the ability to define subsurface geological strata as components within a Site Model. Site model components now create solid geometry that can be accurately represented in 2D elevation, section, and textured 3D views. The upgraded object components accommodate fixed or variable thicknesses of the strata, allowing users to create a more realistic BIM model.

General Spotlight Improvements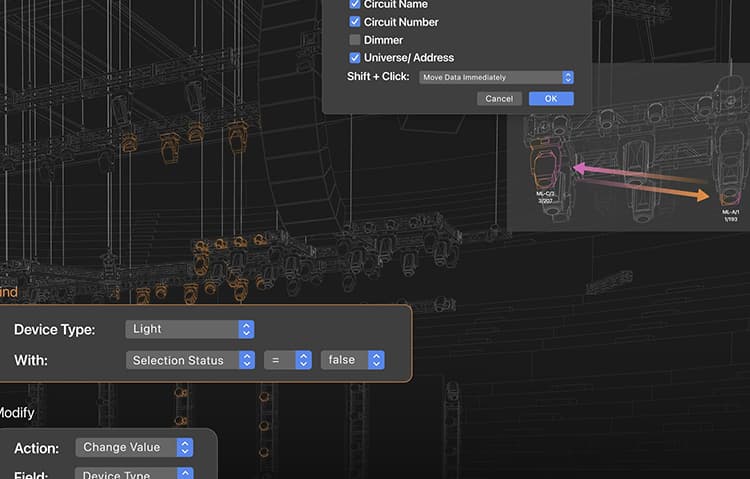 General improvements in Spotlight 2022 make editing and revising lighting designs easier by creating more efficient and intuitive workflows. There are also improvements in overall visualisation capabilities and accuracy. Several new Context Menu commands let users select lights by position, rigging object, and instrument type as well as the ability to rotate groups of devices around insertion points, swap the positions of two lighting devices, and more.

Cable and Power Planning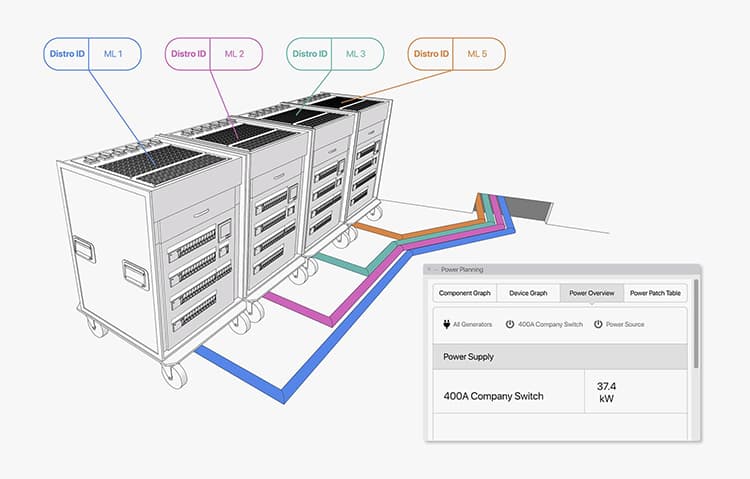 Efficiently plan and document a show or event's cable and power requirements with new and improved Spotlight features. Easily prepare documentation and inventory lists, loom construction lists, and power load spreadsheets without the need for third-party software. It's now possible to automate inserting cables between linked objects, and these cables will automatically reshape as changes are applied. The new Cable Navigation system allows users to automatically draw cables by selecting the relevant inputs and outputs.

Enhancements for Schematic Views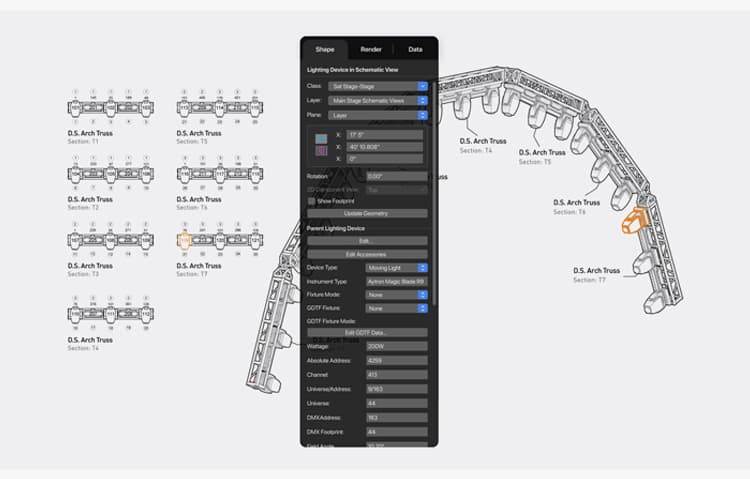 Spend less time jumping between tools and commands when working with schematic views. With the latest enhancements, users can choose the placement of Schematic Views and the management of objects in and on a Schematic View has been improved. See more logical snapping of objects and get direct access to an object's properties through the Object Info Palette. Furthermore, common Spotlight commands now work in Schematic Views.
Truss Magnets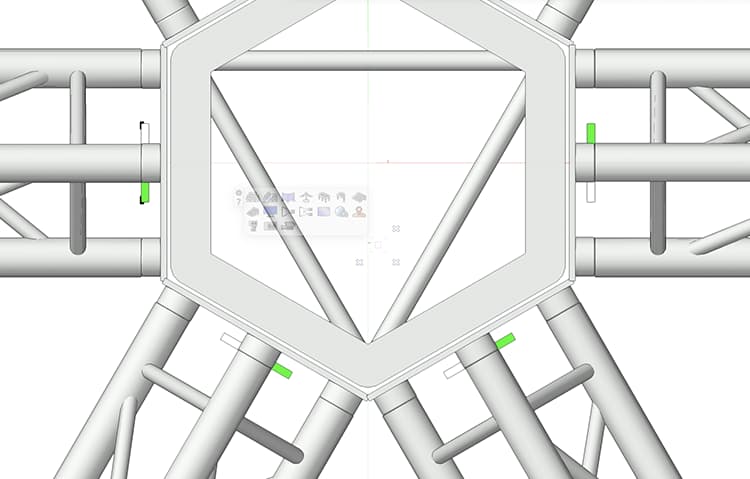 Check out the latest in truss connections with Truss Magnets. This new object will be placed within a truss assemble definition to allow for better control when joining sections of trusses using the AutoConnect system. Users won't have to rely on post-placement edits anymore! Magnets provide a quick and consistent method for connection, ensuring it's the correct orientation the first time and every time.

ConnectCAD - Cable Route Planning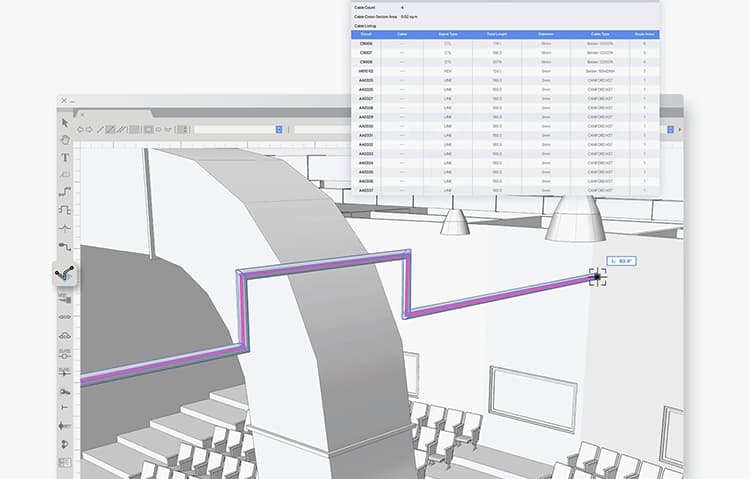 Say goodbye to hand-calculating lengths of cables and hand-drawing complex cable runs. With the new ConnectCAD Cable Route Planning, users'll have access to a full-featured 2D and 3D cable planning system that will allow users to plan cable runs and drops, perform calculations, and more.
ConnectCAD - Device Tool Eyedropper Mode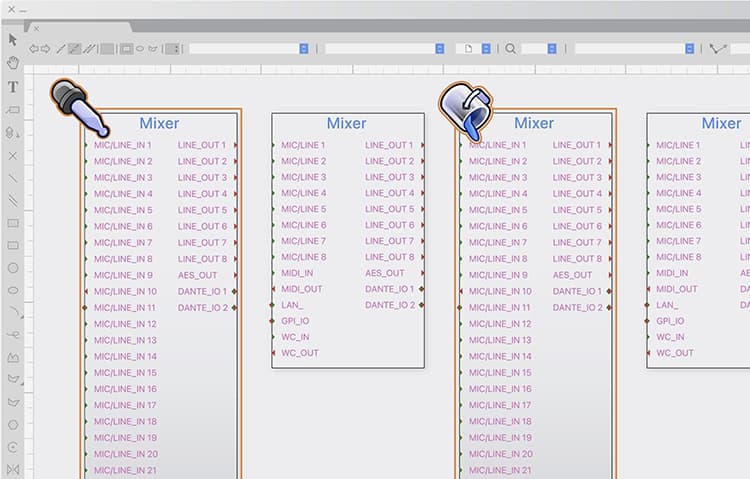 Save time configuring ConnectCAD devices with the new eyedropper mode. With this mode enabled, simply copy configuration and data from one device and apply it to other devices. Users can now quickly make bulk changes to device configurations and accounts for the addition and deletion of sockets and then updates device graphics to ensure accuracy in usersr schematic drawings.

ConnectCAD - Updates to Device Editing

ConnectCAD's device editing workflow has been simplified in version 2022. Now, all device databases can be accessed directly from Vectorworks meaning less time jumping from file to file to edit devices. Improvements to Device Builder now allow users to create a new DA device in the builder. There are also improvements to signal type editing. Now users can see all the signal and connector types in the ConnectCAD setting dialog for easier editing and management.
Laser Visualisation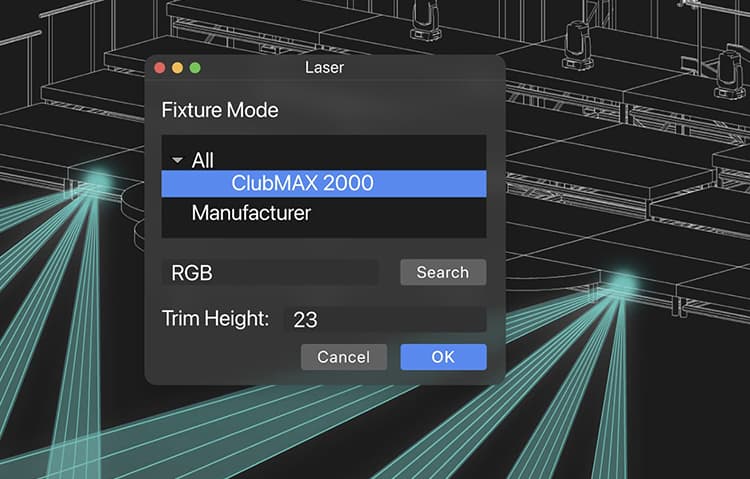 Take the show to the next level with new laser visualisation in Vision 2022. With support from industry leader, Pangolin, and the connection to Pangolin's technology, it's now possible to add and configure laser projectors. Vision will also support controlling lasers using Pangolin's BEYOND software through a network streaming to vision. All lasers can also be previsualised in either Vision or Pangolin.
Soft Goods Update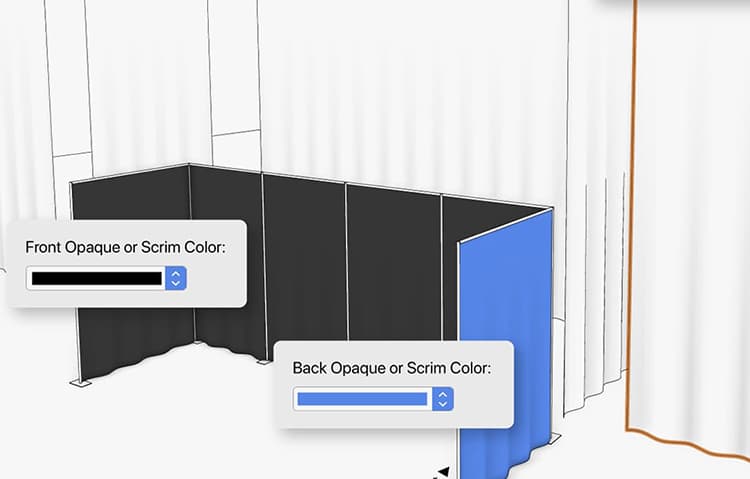 The Soft Goods tool now has greater flexibility with more options for base plates, uprights, double sided drape set-ups and more. The addition of Styles lets users add Soft Goods without needing to adjust them after they're inserted or modified. There is also better control in weight calculations — perfect for when users need a creative solution to odd problems.
Why Vectorworks Designer?
The Best in BIM
With Vectorworks Designer, you can create Building Information Models (BIM) without changing your preferred design process. Whether you're looking to streamline costs, analyse materials, increase your energy efficiency, or just create world-class designs, the Vectorworks Designer solution is an efficient way to introduce BIM capabilities into your workflow. Enjoy the robust and flexible capabilities of BIM with ease of design, great documentation, and intelligent tools.
Industry Leading 3D
An advanced suite of Parasolid-based solids and NURBS surface tools lets you create any shape and easily explore geometry. Plus, with graphical scripting tools, subdivision surface modelling, point cloud support, you can create any shape and easily explore geometry. Vectorworks' intuitive interface lets you design from any 3D view using modes in modelling tools that automatically infer working planes as you move your cursor, and enjoy the superior quality that allows you to manipulate your model with ease. More accurate object information and better snapping make drawing in 3D easy.
Seamless Interoperability
Import or export a wide array of image files. Publish your design for inclusion in your firm's marketing materials or website. Get on the cutting edge of collaborative digital practices, exchanging 2D, 3D, Building and Site Information Modelling (BIM/SIM) data and models for numerous multidisciplinary, multi-platform design workflows, as well as sending models to CAD/CAM machines, CNC routers, and 3D printers.
Flexible Workflows & Project Sharing
Enable multiple designers to work concurrently on the same Vectorworks Designer file with Vectorworks' Project Sharing feature.

Project Sharing provides a flexible way to manage productive workflows for even the most complicated project. Plus, the software lets you create, model, present, and develop your designs easily and precisely with just one application.
Superior 2D Documentation
Vectorworks Designer offers precision drafting tools, intelligent objects for building, detailing, MEP, furniture, millwork, machine parts, and annotations, plus thousands of free symbols from leading building product companies. Batch print drawing sets or export them as multipage PDFs at full or reduced sized. Plus, use the exclusive sketch rendering technology to change hard-lined drawings into soft, hand-sketched illustrations, blurring the line between clear, accurate technical documentation and compelling presentations.
Superior SIM Tools
Vectorworks Designer provides an efficient way to introduce Site Information Modelling (SIM) capabilities into your workflow. The program's tools will help you analyse your design for area, volume, slope, cut/fill, and other data such as water flow and sun/shade. Scan in planting plans and trace over them with ease. Or, simply enter your field measurements. Use the property line tool to define a site's boundaries and setbacks. Plus, building tools and site objects easily document existing structures and site conditions. In addition, you can use the program's drawing, modelling, and 2D and 3D graphics capabilities to create compelling presentations.
Unmatched Experiences
Vectorworks Designer software gives designers in the entertainment industry an edge to advance their ideas from concept through completion. The extensive libraries of signature brand lighting are complemented by best-in-class documentation tools, so users can quickly create light plots, automate paperwork, and visualise your design in rendered 3D views.
---

What is Vectorworks Service Select (VSS)?
Vectorworks Service Select provides customers with several added benefits, including immediate receipt of product releases, the best pricing, predictable budgets, priority technical support, VIP access to downloads, easy account management, and access to a growing library of on-demand learning tutorials. You'll also have exclusive access to Vectorwork Cloud Services, as well as their mobile apps.
Please Note: We may need to quote VSS pricing pro rata for users with a current VSS subscription. Contact us for a quote.
Vectorworks 2022 System Requirements
General Requirements

 

 

 
Operating Systems 
macOS 11 (Big Sur)

 

macOS 10.15 (Catalina)

Windows 10 64-bit

 

  


Minimum Hardware Profile

 
Entry-level Profile:

 
For small projects, simple models/drawings with a low level of detail, simple renderings (such as small residential projects, small theaters, small landscaping design) 
Processor 
Intel Core i5 or AMD Ryzen 5, or better
Apple M series 
RAM
8GB or more 
Graphics Card
2GB VRAM or more, macOS: Metal GPUFamily1 or later, Windows: DirectX 11 compatible 
Some integrated graphics cards such as Intel Iris Plus/Pro graphics and AMD Radeon RX Vega series are acceptable for very simple models/drawings, but a dedicated graphics card is preferable. 
Vision requires a dedicated OpenGL 4.1 compatible graphics card with 2GB of VRAM or more, preferably released in the past three years (e.g. NVIDIA GeForce RTX 2060 series, AMD Radeon RX 500 series). 
Using multiple view panes with different visibilities in all panes requires a graphics card with at least 2GB of VRAM. 
Display Resolution
1440 x 900 or higher 
Hard Disk
10GB of free disk space is required for the installation. 30GB or more is required for a full installation with all libraries. 
Case-sensitive file system volumes are not supported. 
Recommended Hardware Profiles

 
High-end Profile
For large projects, complex and very detailed models/drawings, complex renderings (such as large BIM projects, large entertainment venues, commercial sites, GIS, high-end landscaping design, photorealistic rendering)   
Processor
3.0+ GHz Intel Core i7 or AMD Ryzen 7 with eight cores, or better 
RAM
32GB or more 
Graphics Card
8GB VRAM or more, macOS: Metal GPUFamily2 or later, Windows: DirectX 11 compatible 
Vision requires a dedicated OpenGL 4.1 compatible graphics card with 8GB of VRAM or more, preferably released in the past three years (e.g. NVIDIA GeForce RTX 2080 TI series, AMD Radeon RX 5000 series).  
Display Resolution
1920 x 1080 or higher 
Hard Disk
10GB of free disk space is required for the installation. 30GB or more is required for a full installation with all libraries. 
Case-sensitive file system volumes are not supported. 
Installing Vectorworks on flash storage (SSD) is recommended. 
Mid-level Profile
For medium-sized projects, complex models/drawings with a medium level of details (such as small commercial projects, mid-size entertainment venues, residential site modeling) 
Processor
2.0+ GHz Intel Core i7 or AMD Ryzen 7 with six cores, or better 
Apple M series  
RAM
16GB or more 
Graphics Card
3GB VRAM or more, macOS: Metal GPUFamily1 v4 or later, Windows: DirectX 11 compatible 
Vision requires a dedicated OpenGL 4.1 compatible graphics card with 4GB of VRAM or more, preferably released in the past three years (e.g. NVIDIA GeForce RTX 2070 series, AMD Radeon RX Vega series). 
Using multiple view panes with different visibilities in all panes requires a graphics card with at least 3GB of VRAM, with 4GB or more recommended for large files. 
Display Resolution
1920 x 1080 or higher 
Hard Disk
10GB of free disk space is required for the installation. 30GB or more is required for a full installation with all libraries. 
Case-sensitive file system volumes are not supported. 
Installing Vectorworks on flash storage (SSD) is recommended. 
Redshift System Requirements

 
Redshift by Maxon rendering employs the GPU to efficiently perform ray tracing. Redshift has the following specific system requirements. 
Redshift on Windows
Windows 10 required 
Minimum: 8GB of system memory. Processor with SSE2 support (Pentium4 or better). NVIDIA GPU with CUDA compute capability 5.0 or higher and 8GB VRAM or more. Single GPU.  
Recommended: 16GB of system memory or more. Core i7 or Xeon equivalent, 3.0GHz or higher. NVIDIA GPU with CUDA compute capability 7.0 or higher and 10GB of VRAM or more. We recommend an NVIDIA Quadro, Titan or GeForce RTX GPU for hardware-accelerated ray tracing. Multiple GPUs. 
Redshift on Mac
macOS 11.3 or later required.  
Minimum: 8GB of system memory (16GB minimum for M1). Apple M1 16GB or AMD "Navi" or "Vega" GPU with 8GB VRAM or more. Single GPU.  
Recommended: 16GB of system memory or more. Core i7 or Xeon equivalent, 3.0GHz or higher. Apple M1 16GB or AMD "Navi" or "Vega" GPU with 8GB VRAM or more. Multiple GPUs.  
List of supported AMD GPUs for macOS 11.3+ 
MacBook Pro 
Radeon Pro Vega 16/20 Radeon Pro 5500M/5600M 
iMac 
Radeon Pro Vega 48 Radeon Pro 5500XT/5700/5700XT
iMac Pro 
Radeon Pro Vega 56/64
MacPro 
Radeon Pro Vega II / Vega II Duo Radeon Pro W5500X/W5700X Radeon RX 6800/6800XT/6900XT
Thunderbolt eGPUs 
Radeon RX Vega 56/64 Radeon Pro WX 9100 Radeon VII Radeon RX 5500/5500XT/5600XT/5700/5700XT Radeon RX 6800/6800XT/6900XT
Additional Details 
Graphics Cards 
Graphics cards should support at a minimum macOS Metal GPUFamily1 and Windows DirectX 11; cards not meeting this recommendation will not work. In general, the more powerful your graphics card is, the better your Vectorworks experience will be.   
macOS users should use the latest stable version of macOS available (non-beta), as macOS includes ongoing fixes for video drivers. From our testing, Metal drivers in old macOS versions may show serious issues on certain specific video hardware; after updating to the latest macOS the same hardware performed well and without issues. Similarly, minor version updates may improve stability; graphics problems seen on certain hardware on macOS 10.15.1 were resolved simply by upgrading to macOS 10.15.7. For these reasons we recommend using the latest macOS with your system. 
Regarding macOS 10.14 (Mojave): Vectorworks 2022 uses Metal for graphics processing. In our testing, macOS 10.14 video drivers on certain hardware showed multiple serious problems with Metal processing. Therefore, Vectorworks system requirements require at least macOS 10.15. We expect this requirement will help users avoid serious issues with Metal graphics in Vectorworks 2022. 
Using Multiple View Panes with different visibilities in all panes can be VRAM-intensive and require at least 2GB of VRAM, with 3GB or more recommended for large Vectorworks documents. 
Vision requires a dedicated OpenGL 4.1 compatible graphics card, preferably released in the past three years. We do not recommend any integrated Intel video chipset. While Vision may run under these environments, we do not support them due to their lack of performance and speed. We recommend gaming cards over workstation cards for Vision due to the higher clock speed.   
Remote and Virtual Machines 
Users should not expect high performance in remote environments such as Remote Desktop, Terminal Services and VNC or virtual machine environments such as Parallels and VMware.
Vectorworks will run under Boot Camp on Mac machines provided all drivers are up to date.
More Information

| | |
| --- | --- |
| Brand | Vectorworks, Inc. |
| Delivery Type | Digital Delivery By Email |
| Processing Time | 1 - 4 (Business) Hours |